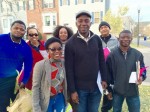 Mshale has joined with 11 other organizations to capture the political power of African, Latino, Asian and Native American peoples of Minnesota (ALANA) via a survey exit poll. The survey will take 2 minutes to complete. Results of the survey will be used to illustrate ALANA voting power in each legislative district, and to encourage policy leaders to grow the $20 billion ALANA economic assets in Minnesota.
After voting, members of the ALANA community can fill out the survey at: www.surveygizmo.com/s3/1874493/I-Voted-2014.
Participating organizations are:
Minnesota Black Chamber of Commerce
Oromo Community of MN
Oromo Chamber of Commerce
Minnesota Somali Chamber of Commerce
Hmong American Partnership
Council on Asian Pacific MN
Chicano Latino Affairs Council
India Association of MN
ISUROON
Insight News
National Coalition Against Racism in Sports and Media
Mshale Newspaper
Free rides to the polls
Meanwhile, leaders of the African community in the Northwest suburbs, working through the Minnesota African Task Force Against Ebola (MATFAE) and African Immigrant Services (AIS), agreed to increase the participation of African immigrants in this year's election.
Abdullah Kiatamba, chairman of the Minnesota African Task Force Against Ebola (MATFAE) and executive directorof AIS said "Even while we try to close disparities in Minnesota, we are also interested in leaders who are ready to push the U.S. government to increase relief aid to affected Ebola countries, to invest in drugs to cure Ebola, and to help build collapsed healthcare systems in those affected countries." To make that possible, the group has made it possible for those not able to get to the polls to get free rides to vote.
Those needing rides should call 612-388-4767, 763-639-3316 or 763-202-9696.
To increase voter participation by Africans this year, Kiatamba said the group has knocked on more than 4,000 doors, sent over 10,000 emails and 9,000 text messages. They initiated more than 8,000 robocalls and dialed over 1,000 numbers. In the process, they have secured the commitment of more than 1,500 people to vote.
Key races (featured in the latest Mshale print edition in its voter guide) of interest to Africans include that of Brooklyn Center mayor where Liberian immigrant Mike Elliott is on the ballot. The Osseo School board elections also has two Africans on the ballot vying for two of the three open spots. In Minneapolis, Siad Ali is running unopposed for school board while in Brooklyn Park, home to a large African immigrant population, the city which now has a majority minority population is poised to elect its first black mayor if Joy Marsh Stephens wins or first city council person if Reva Chamblis wins.
After you vote: Go to www.surveygizmo.com/s3/1874493/I-Voted-2014 and tell us you did.

Born and raised in Kenya's coastal city of Mombasa, Tom is the Founder, Editor-in-Chief and Publisher of Mshale which has been reporting on the news and culture of African immigrants in the United States since 1995. He has a BA in Business from Metro State University and a Public Leadership Credential from Harvard's Kennedy School of Government. He was the original host of Talking Drum, the signature current affairs show on the African Broadcasting Network (ABN-America), which was available nationwide in the United States via the Dish Network satellite service. On the show, he interviewed Nobel laureates such as 2004 Nobel Peace prize winner, Professor Wangari Maathai, the first woman from Africa to win the peace prize and heads of states. Tom has served and chaired various boards including Global Minnesota (formerly Minnesota International Center), the sixth largest World Affairs Council in the United States. He has previously served as the first Black President of the Board of Directors at Books for Africa. He also serves on the boards of New Vision Foundation and the Minnesota Multicultural Media Consortium. He has previously served two terms on the board of the United Nations Association. An avid runner, he retired from running full marathons after turning 50 and now only focuses on training for half marathons.





(No Ratings Yet)


Loading...