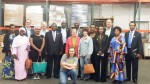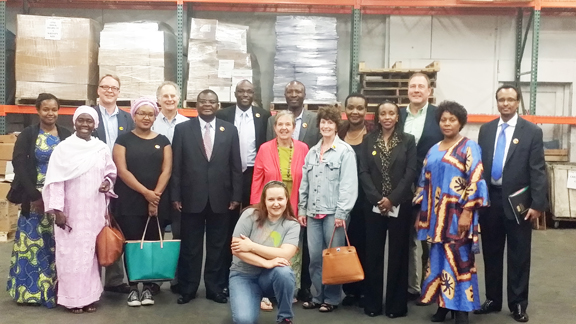 ST. PAUL, Minn. – Less than a year after his death, Books for Africa and Minnesota Kenyans International Development Agency (MKIDA), are helping keep the legacy of Ishmael Nyangau Gitaa alive.
In the presence of Kenya's ambassador to the United States, Robinson Njeru Githae, the two organizations yesterday donated a container of books in memory of the late Mr. Gitaa who was father to Mshale founder and publisher, Tom Gitaa. The younger Gitaa is former Books for Africa board of directors' president and its current volunteer Director of Diaspora Affairs.
A typical 40-foot container that Books for Africa ships contains over 22,000 school textbooks.
The late Gitaa died on September 2, 2014 and was buried at his birthplace of Nyamira County in Kenya. He was a businessman and philanthropist based in the coastal city of Mombasa before semi-retiring to his rural home in Nyamira shortly before his death. Active in both his adopted city of Mombasa and birthplace of Nyamira, he was involved in many development projects both social and educational.
"MKIDA and Books For Africa, acting in partnership, have together raised the funds to ship MKIDA's 5th container to Kenya.  This container will be shipped to Kisii, Kenya, in honor of your late father, Mr. Ishmael Nyangau Orobo Gitaa.  This decision and request for partnership came to BFA
through official action and request by the MKIDA board of directors," Patrick Plonski, Books for Africa executive director said at the BFA Saint Paul, Minnesota warehouse during a brief ceremony.
Plonski said the older Gitaa's legacy is worth preserving as it is a noteworthy one given he raised the younger Gitaa and his siblings "that has benefited us over here as well."
"We are honored that MKIDA and BFA are thinking of my dad who loved education so much and there is no better way to honor him," said Gitaa as he accepted the donation on behalf of the extended Gitaa family.
MKIDA, whose mission is to help improve education standards, health, and economic development of rural Kenya has previously sent four containers to the region through donations from its Diaspora supporters in the United States and is one of the leading Kenyan Diaspora groups in partnership with Books for Africa.
MKIDA executive director, Paul Morande, said the container in memory of Mr. Gitaa will benefit over 22 schools in the two counties of Nyamira and Kisii.
"I met Mzee (reference to Mr. Gitaa) when he was here last year and was very inspired by his love and generosity for our people," said Mr. Morande. He said MKIDA was pleased to partner with books for Africa to make the donation possible.
Ambassador Githae who was in town for official Madaraka Day celebrations with the Kenyan community in the state praised Books for Africa and its group of volunteers for the work they have done of the years in sending books to Kenya and Africa. This is Ambassador Githae's first visit to Minnesota since presenting his appointment credentials to president Obama last Fall.
"I am sure the parents, students and teachers in Nyamira and Kisii will appreciate these books once they get there," Ambassador Githae said at the BFA warehouse. He told BFA to continue its "fine work" and pledged the embassy's support in future Books for Africa endeavors.
Books for Africa is the largest shipper of donated school textbooks in the world to the African continent and is one of a handful of US charities to consistently get a four star rating for fiscal management by the charity rating agency Charity Navigator.
Ambassador Githae's delegation from the embassy to the gifting ceremony included Agnes Kirui, First Secretary Economics; Elizabeth Belsoi, Social Secretary and Administrative Attaché Lydia Gakii Kiarie
Speaking on behalf of the BFA board of directors in the absence of the president Rosemond Owens who is in her native Ghana, president-elect Luanne Nyberg said BFA continues to play an important role in ending the book famine in the African continent in a very "cost effective way" and "we are going to continue doing so," she said. Also present was Norm Linnell who succeeded Tom Gitaa as board president after his term expired.
Books for Africa has shipped 32 million books to 49 different African countries since 1988. Last year it shipped 2.6 million books, valued at $35 million to 27 African countries, with an additional 223 computers and 11 brand new law and human rights libraries, according to its official filings.
Faiza Abbas Mahamud is Associate Editor at Mshale having started as a Staff Reporter. She has a BA in Journalism and Women's Studies from Augsburg College. She is author of the documentary "Somali Women's Education". She is based in Minneapolis.





(No Ratings Yet)


Loading...