Ethiopian Airlines has once again been named African Airline of the Year by the African Airlines Association (AFRAA). The announcement was made during the association's 49th Annual General Assembly in Kigali last week (November 14).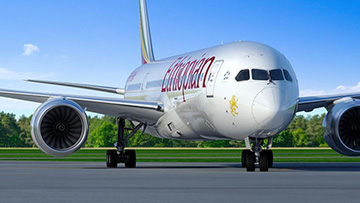 Secretary General Dr. Elijah Chingosho said during an address at the meeting that only Ethiopian, Air Mauritius and Morocco's Royal Air Maroc and Astral Aviation, a Kenyan cargo carrier were profitable in 2017. Other African airline giants like Kenya Airways, Egypt Air and South African Airways combined for a loss of US$100 million in 2016
Dr. Chingoso also lamented the high cost of air transportation in the continent. Saying that the global average for airfare ranged around $25, in Africa it ranged from $40 to $120.
"This puts African aviation at a huge competitive disadvantage that calls for a policy shift from governments treating air transport as a preserve for the rich as opposed to a means of mass transport that is a major contributor to social development," he said. He however praised the launch of the African Passport at the 27th African Union summit in Kigali in July 2016 as a move in the right direction.
The Airline of the Year Award recognizes excellence in service delivery, innovation and competitiveness in airlines, individuals and service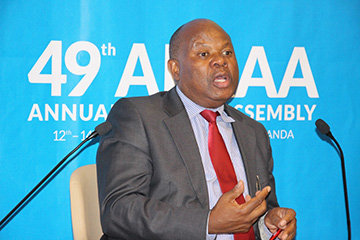 providers in the African aviation industry.
Tewolde GebreMariam, Ethiopian Airlines Group CEO said, "As a truly indigenous and home-grown Pan-African airline owned, managed and operated by Africans, we are highly honored to receive this recognition by fellow sisterly airlines in the continent for the 6th consecutive year. I would like to thank AFRAA and sisterly airlines in the continent for recognizing our efforts in nurturing cooperation with other sisterly African Airlines and in availing efficient passenger and cargo networks within, to and from the continent, while registering sound financial performance and record profit in 2016."
The carrier's long-term strategic plan calls for it to achieve a $1 billion annual profit by 2025, according to published reports. A larger airport is being built in its Addis Ababa hub which will be able to handle 120 million passengers annually.

Born and raised in Kenya's coastal city of Mombasa, Tom is the Founder, Editor-in-Chief and Publisher of Mshale which has been reporting on the news and culture of African immigrants in the United States since 1995. He has a BA in Business from Metro State University and a Public Leadership Credential from Harvard's Kennedy School of Government. He was the original host of Talking Drum, the signature current affairs show on the African Broadcasting Network (ABN-America), which was available nationwide in the United States via the Dish Network satellite service. On the show, he interviewed Nobel laureates such as 2004 Nobel Peace prize winner, Professor Wangari Maathai, the first woman from Africa to win the peace prize and heads of states. Tom has served and chaired various boards including Global Minnesota (formerly Minnesota International Center), the sixth largest World Affairs Council in the United States. He has previously served as the first Black President of the Board of Directors at Books for Africa. He also serves on the boards of New Vision Foundation and the Minnesota Multicultural Media Consortium. He has previously served two terms on the board of the United Nations Association. An avid runner, he retired from running full marathons after turning 50 and now only focuses on training for half marathons.





(No Ratings Yet)


Loading...