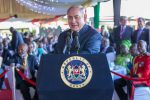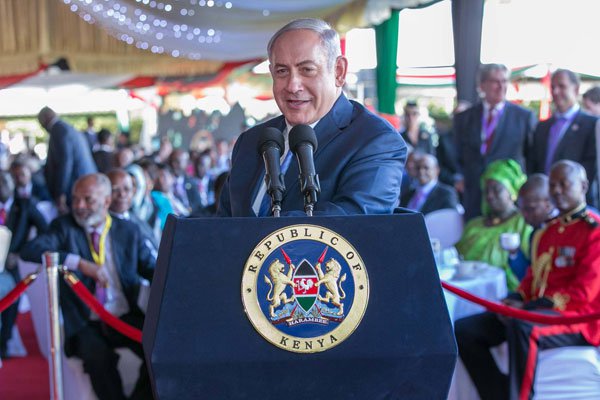 Israeli prime Minister Benjamin Netanyahu has expressed his country's desire to join the African Union. The premier made the remarks on Tuesday at State House, Nairobi during a luncheon to celebrate the second inauguration of president Uhuru Kenyatta after a disputed election. Netanyahu attended the luncheon with 11 other African heads of state even though he had skipped the public inauguration ceremony despite being in the country. He would have been the only non-African head of state at the inauguration.
According to Kenya's Daily Nation, Netanyahu said "I hope that we all find a way to have Israel become an observer status in the African Union because we can help, we cannot only observe but we can help build together a better future for Africa."
Netanyahu said Israel is eager to work with the continent to fight extremist groups such as Boko Haram and Al-Shabab.
"This is a threat to all of us and I believe that we can cooperate with other countries, between us and with others and if we work together we will defeat the barbarians. Our people deserve better, we can provide it for them," Netanyahu said.
Netanyahu also told the luncheon that Israel will be joining forces with the United States in former president Obama's signature initiative for Africa, Power Africa, an ambitious project by the former president to generate 30,000 megawatts (MW) of clean energy and connect 60 million new homes and businesses in the continent.
"I have been told a few weeks ago that the United States has asked Israel to be a partner in Power Africa. We would like to work with you and every one of your countries to electrify Africa. We believe in Africa. So for every one of your initiatives there will be an initiative on our part to seize the future to make life better and safer for your people," he said.
This is Netanyahu's third trip to the continent in 18 months with two of the three being to Kenya. The prime minister's brother, Lt. Col. Yonatan Netanyahu, who led Operation Thunderbolt mission in Uganda was killed during the military operation also known as Entebbe raid.
Since coming to power Netanyahu has worked diligently to change the 54 African votes at the United Nations which routinely vote in favor of resolutions supporting Palestinians and hence against Israel. However, Rwanda did abstain on a vote for Palestinian statehood at the United Nations in 2014.
New Embassy in Rwanda
While in Nairobi on Tuesday, Netanyahu met with Rwanda's president Paul Kagame who was in Kenya for president Kenyatta's second and final term swearing in. The Israeli prime minister took the time to announce his country will open an embassy in Rwanda. Currently, the Israeli embassy in Ethiopia also serves Rwanda. In July 2016, Netanyahu became the first Israeli prime minister to visit Rwanda and this past summer, Netanyahu returned the favor by hosting Kagame during a state visit.
Netanyahu also said his country will consider establishing direct flights to Rwanda, according to The Times of Israel.
"This is part of the expansion of Israel's presence in Africa and of the deepening cooperation between Israel and African countries," Netanyahu said.

Born and raised in Kenya's coastal city of Mombasa, Tom is the Founder, Editor-in-Chief and Publisher of Mshale which has been reporting on the news and culture of African immigrants in the United States since 1995. He has a BA in Business from Metro State University and a Public Leadership Credential from Harvard's Kennedy School of Government. He was the original host of Talking Drum, the signature current affairs show on the African Broadcasting Network (ABN-America), which was available nationwide in the United States via the Dish Network satellite service. On the show, he interviewed Nobel laureates such as 2004 Nobel Peace prize winner, Professor Wangari Maathai, the first woman from Africa to win the peace prize and heads of states. Tom has served and chaired various boards including Global Minnesota (formerly Minnesota International Center), the sixth largest World Affairs Council in the United States. He has previously served as the first Black President of the Board of Directors at Books for Africa. He also serves on the boards of New Vision Foundation and the Minnesota Multicultural Media Consortium. He has previously served two terms on the board of the United Nations Association. An avid runner, he retired from running full marathons after turning 50 and now only focuses on training for half marathons.





(1 votes, average: 2.00 out of 5)


Loading...