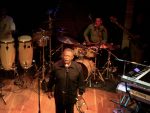 Hugh Masekela of South Africa, a celebrated musician famously known for his mastery of the trumpet and also an anti-apartheid fighter, died on Tuesday, January 23 in Johannesburg not far from the nearby town of Witbank where he was born on April 4, 1939 and named Ramapolo Hugh Masekela. He was 78.
Masekela's last performance in Minnesota was on March 7, 2015 during a joint concert with fellow South African Vusi Mahlasela during the duo's '20 Years of Freedom' tour. The concert was part of the Ordway Center for Performing Arts "22 days of opening nights" to showcase its newly renovated 1,100-seat concert hall, according to Mshale's Kari Mugo who reviewed the concert. Prior to his concert at the Ordway, he was no stranger to the Twin Cities at venues that have perfected hosting top touring African acts.
Masekela's family confirmed his death through a statement sent to media by Dreamcatcher, a communications agency.
The statement said, "After a protracted and courageous battle with prostate cancer, he passed peacefully in Johannesburg, surrounded by his family." The family lauded the press for respecting his privacy during his battle with cancer. They described him as a loving father, brother, grandfather and friend that will be "forever in our hearts."
The Sharpeville massacre in 1960 drove Masekela into exile. Apartheid police killed 69 protesters in a township called Sharpeville just outside Johannesburg and the white regime banned gatherings of more than 10 people. He went to London and signed up at Guildhall School of Music before landing at Manhattan School of Music through efforts by fellow South African Miriam Makeba and American singer Harry Belafonte.
When Nelson Mandela was released from prison in 1990, Masekela moved back to South Africa.
Reviewing his last performance in Minnesota in 2015 with Vusi Mahlasela, Kari Mugo wrote in Mshale: "In song and instrument, Masekela and Mahlasela were dedicated performers, covering their hits as well as songs that had been part of the anti-apartheid struggle, and that spoke to issues that still faced Africans. Speaking to the dangers the mining industry still poses in "Stimela" ("Coal Train"), Masekela spoke in English about the trains carrying African laborers to backbreaking jobs in the mines. As the song drew to an end, Masekela who had mimicked the movement of a train with his body, released screeching like brakes and train whistles that signaled the train's movement and left chills on my arms."
A son, Sal Masekela and a daughter, Pula Twala, survive Hugh Masekela. Two sisters, Elaine and Barbara, also survive him.
Details on a memorial and burial service will be released in due course, the family said in its statement.





(No Ratings Yet)


Loading...