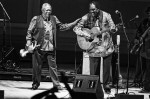 While Spring may still seem far off, Rock the Ordway, billed as "22 days of opening nights" showcasing a motley of unexpected, and new performances is out "to shake things up" for Minnesotans trapped in the dark days of winter. The Ordway Center for the Performing Arts embarked on a grand renovation of its 30 year old digs and $42 million later it is inviting the public to celebrate its new 1,100 seat concert hall with performances by some of the best and the brightest national and international artists.
Two of those artists are the legendary Hugh Masekela, and Vusi Mahlasela, currently on a North American tour marking the 20th anniversary of the end of apartheid in South Africa. If it is true that every revolution needs a soundtrack, then the two musicians were the soundtrack to South Africa's struggle for independence, providing stirring music that refused to accept things as they were. Hugh Masekela with his rallying anthem 'Bring Home Nelson Mandela', and Mahlasela who simply became known as "The Voice" of the anti-apartheid movement through his songs calling for justice, and freedom were largely responsible for focussing the world's attention on the events in South Africa through their music.
Hugh Masekela, no stranger to the Twin Cities,  maintains his own right as one of the most iconic jazz musicians, with a dizzying career that spans 4 decades, countless collaborations, and numerous studio albums. He is magic on the trumpet and flügelhorn, and a fitting accompaniment to Vusi Mahlasela on the guitar. Mahlasela, whose political leanings were solidified after witnessing the massacre of 200 South Africans during the Soweto uprising, is a prolific poet and songwriter, who delivers rich vocals that speak to the African, and the human experience.
It is only fitting that the two legendary artists should be invited to to be part of the Ordway's celebration; a multilayered celebration of dreams realized. As an added perk, the Ordway guarantees that there is no such thing as a bad seat in their new state of the art concert hall. If you have any doubts as to the chops these two artists have, or the Ordway's claims, come check them out this Saturday, March 7th, with a free pre-show tasting of South African wines starting at 5:30 pm, while supplies last.
Hugh Masekela and Vusi Mahlasela in Concert
Saturday March 7th, 2015
7:30 pm
$20.00 – $47.00
Buy Online
345 Washington Street
Saint Paul, MN 55102
Ticket Office: 651.224.4222
Main Office: 651.282.3000
Kari, formerly of Minneapolis is now based in Nairobi. She is a writer, born and raised in Kenya, and a true global citizen. When not writing for Mshale, she is actively pursuing justice and equality for all through her writing and activism.





(No Ratings Yet)


Loading...