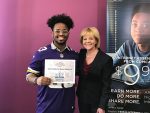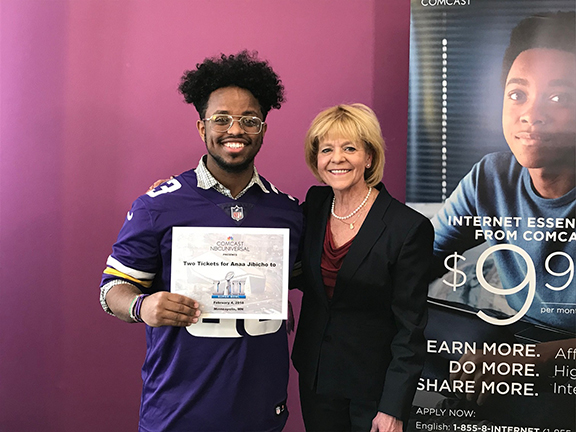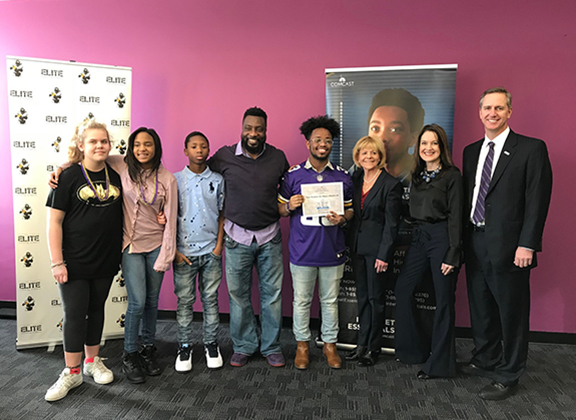 Comcast last week awarded Anaa Jibicho, a 17-year-old junior at Washington Technology Magnet School in St. Paul and a Boys & Girls Club member for 8 years, two tickets to this year's Super Bowl being held in Minneapolis on February 4, which will be aired live on NBC-TV, which is owned, by Comcast.
As of the time of publishing this story, tickets to the Super Bowl in Minneapolis are being offered on resale websites for over $4,000 per ticket.
The opportunity for Jibicho came through a partnership between the Boys & Girls Clubs and Comcast NBCUniversal's recently launched technology education program, called My.Future which teaches Club kids about the digital world and "get them passionate about the endless possibilities that technology offers."
"We are incredibly excited about the opportunity Comcast and NBC Sports are creating for Anaa. Anna was our 2017 Twin Cities Youth of the Year, and is very deserving of this wonderful experience.  He is already a leader and inspiration to many of his fellow Club members and receiving an honor like this shows his peers that hard work and dedication does not go unnoticed," Terryl Brumm, CEO of the Boys & Girls Clubs of the Twin Cities said during a ceremony at the club where Allyson Hartle, Director of Government Affairs at Comcast Twin Cities presented the tickets to Jibicho.
The tickets will allow Jibicho and a guest of his choice to attend the Super Bowl at US Bank Stadium as well as the 'NFL Experience' at the Minneapolis Convention Center, which includes the Super Bowl Memorabilia Show, live broadcasts of NFL Network, NFL Rush Zone, and the Vince Lombardi Trophy.
Comcast's relationship with the Boys & Girls Clubs spans 15 years, according to statement from the company's Twin Cities regional office. The company has provided approximately $90 million in cash and in-kind contributions since 2009, its statement added.





(No Ratings Yet)


Loading...