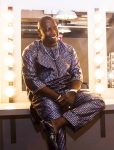 Vieux Farka Touré from Mali, commonly referred by Americans as "The Hendrix of the Sahara" will bring his vibrant sound to Minneapolis on February 17 at the Dakota for one show. He is the son of the late Grammy winner Ali Farka Touré. This is a rare treat for the Twin Cities when a renowned musician makes a weekend stop here and on a Saturday no less
Touré usually sings in Mali's national language Bambara but also in the Songhai language as well as French. He is famous for bridging the gap between traditional West African music and the blues.
His famous musician father never wanted him to play music, as he wanted him to have an easier life than he did. However, with help from family friend the kora maestro Toumani Diabaté, Vieux eventually convinced his father to give him his blessing to become a musician shortly before he died.
He started as a drummer and calabash player at Mali's Institut National des Arts, but secretly began playing guitar in 2001.
He is in the middle of preparing to release another unexpected, genre-bending collaborative album, this time with New York-based singer Julia Easterlin, aptly titled 'Touristes'.
WHO: Vieux Farka Touré
WHERE: The Dakota, 1010 Nicollet Avenue, Minneapolis, MN 55403
WHEN: Saturday, February 16, 2018 7 p.m. $32-$38
TICKETS: www.dakotacooks.com





(1 votes, average: 5.00 out of 5)


Loading...