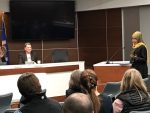 The City of St. Louis Park's Human Rights Commission has awarded its 2017 Human Rights Award to Fatuma Irshat. She received the award during the City Council meeting on March 5. St. Louis Park is a first-ring suburb of Minneapolis bordering Uptown.
The award was in recognition of Irshat's engagement work with the African immigrant community and especially Somalis where she has taken it upon herself to drive neighbors to vote with her "Vote Local" initiative while providing childcare to enable parents to vote.
Prominent in local issues, in addition to voter engagement, her work also includes affordable housing issues and renters' rights.
The city's Human Rights Award, facilitated through its Human Rights Commission, recognizes individuals, groups, organizations or businesses that have made an outstanding contribution toward increasing understanding and cooperation between people of different backgrounds in St. Louis Park.
The St. Louis Park Human Rights Commission advises the city council on how to ensure equal opportunity and participation in housing, employment, public service, public accommodations and education.
In a brief acceptance (which you can watch below at the 7:10 mark), an emotional Irshat thanked the city for the award and those who have supported her in her engagement efforts. City Council members also made remarks about the award and Irshat's inspirational work.





(No Ratings Yet)


Loading...