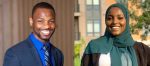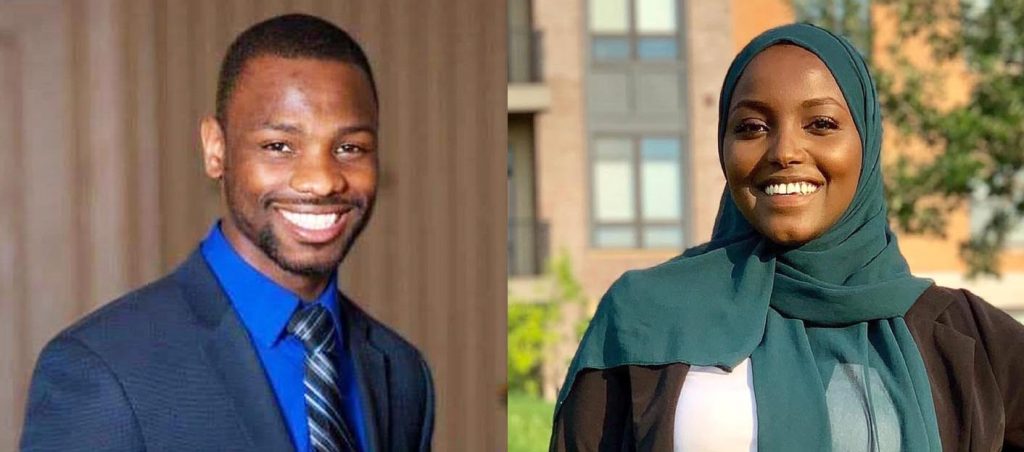 The 2018 midterm elections saw Minnesota voters make history by a number of firsts. They elected the first black person born in the African continent o the US Congress and in Brooklyn Park, the first black person on the council who happens to be born in Liberia and voters in the first ring suburb of Brooklyn Center wrapped up that election by electing the first black mayor in their city also born in Liberia.
Last year's trend continued in many ways on Tuesday, as more African immigrants in the Twin Cities metro encountered success at the ballot, mostly in the suburbs.
Falcon Heights
In the suburb of Falcon Heights, 28-year old Yakasah Wehyee beat two other challengers to win his race for a seat in the city council. Wehyee, a doctoral student at the University of Minnesota was born in Liberia and moved to the US at the age of six. If that city does not ring a bell for some, it is where Philando Castile was shot dead by St. Anthony Police. Falcon Heights City Hall where Wehyee will be attending council meetings is a 10-minute walk from where Castile met his death.
"An integral component of perpetuating community regards establishing trust between residents and public officials such as the police, fire department, and council members. As your council member, I will continue the city's efforts to cultivate a caring community by serving on the community engagement commission," Wehyee pledged during his campaign. Affordable housing, which has become a major concern for many in the metro was another issue he ran on.
St. Louis Park
Nadia Mohamed at 23 becomes possibly the youngest elected official in Minnesota as she cruised to victory in the first ring suburb of St. Louis Park. She becomes that city's first Muslim woman and Somali-American elected to the council. Her candidacy garnered big name endorsements including Minnesota House Majority Leader Ryan Winkler as well as that city's mayor.
Like her fellow African across town, Mohamed's defining issue of her campaign was affordable housing which she said her city needs more of. The city bestowed its Human Rights Award on her earlier this year, a moment she says "helped me understand what can be achieved through civic activity."
St. Paul
In St. Paul, voters in that city's Ward 6 did not look kindly on interim council member Kassim Busuri's decision to run for the seat. He had been appointed to the vacant seat earlier this year on the promise that he will not run for the seat this week on election day. He explained his decision to run for the seat in this June Mshale Op-Ed. On Tuesday however, he came in a distant fourth in a six-person race that was won convincingly by Nelsie Yang who got over 44% of the vote to Busuri's 7%.
The election Tuesday of Wehyee and Mohamed adds to the ranks of African immigrant elected officials in city halls around the metro. Cities with African immigrants in their councils now include Minneapolis, Brooklyn Center, Brooklyn Park, Falcon Heights and St. Louis Park.

Born and raised in Kenya's coastal city of Mombasa, Tom is the Founder, Editor-in-Chief and Publisher of Mshale which has been reporting on the news and culture of African immigrants in the United States since 1995. He has a BA in Business from Metro State University and a Public Leadership Credential from Harvard's Kennedy School of Government. He was the original host of Talking Drum, the signature current affairs show on the African Broadcasting Network (ABN-America), which was available nationwide in the United States via the Dish Network satellite service. On the show, he interviewed Nobel laureates such as 2004 Nobel Peace prize winner, Professor Wangari Maathai, the first woman from Africa to win the peace prize and heads of states. Tom has served and chaired various boards including Global Minnesota (formerly Minnesota International Center), the sixth largest World Affairs Council in the United States. He has previously served as the first Black President of the Board of Directors at Books for Africa. He also serves on the boards of New Vision Foundation and the Minnesota Multicultural Media Consortium. He has previously served two terms on the board of the United Nations Association. An avid runner, he retired from running full marathons after turning 50 and now only focuses on training for half marathons.





(No Ratings Yet)


Loading...