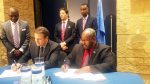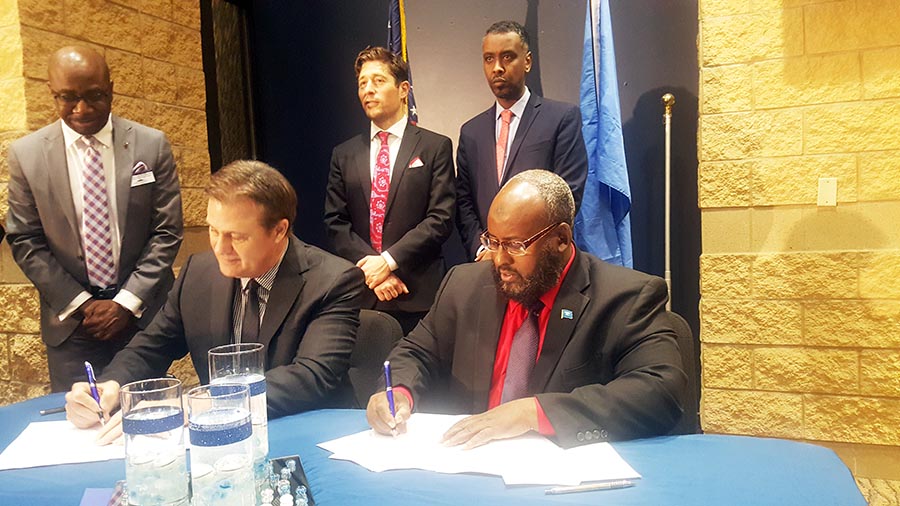 North Central University in Minneapolis and Maakhir University located in the semi-autonomous federal state of Puntland in Somalia have entered into a "sister university" arrangement, a relationship that both sides hope will generate a range of mutually beneficial educational and cultural exchanges.
The Puntland minister for education Abdullahi Mohamed Hassan and NCU President Scott Hagan, signed a memorandum of understanding at a packed November 9 ceremony in the NCU sprawling downtown campus. Among those on hand to witness the signing was Minneapolis mayor Jacob Frey and councilman Abdi Warsame and the executive director of the Council for Minnesotans of African Heritage Justin Terrell. Sophia Abdi Noor, the first woman legislator from northern Kenya to be elected to Kenya's parliament was also present as was Minnesota educator and Somali poet Said Salah Ahmed.
North Central University, located on the edge of downtown Minneapolis is a 90-year old Christian liberal arts institution owned by the Assemblies of God, the world's largest Pentecostal denomination while Maakhir was founded in 2009.
"This is an exciting moment for us, we love having friends around the world as we can learn from each other. It is our honor to participate in this relationship and I truly believe great days are ahead," Hagan said in his remarks before the signing. "I had a very tumultuous childhood and I will spare you the details but I had a person take an interest in me when I was sixteen, and one of the greatest things in a human being's life is when someone takes notice of their potential, it is the best day of your life."
"This is an opportunity that this university has given to us and Minnesota people are very open people and not only have they helped our people here (in Minnesota) but they are now helping our people back home," said Hassan.  "We will carry this sisterhood to not just Puntland but to the whole of Somalia, I will recommend to Maakhir to build on this relationship but to also pay it back. You (NCU) are giving us now but we will pay back."
The signing ceremony was the high point in a week-long visit to the Twin Cities by the education minister. In addition to meetings with the North Central staff, he has been consulting with members of the Somali diaspora in the Twin Cities. The education minister was a 25-year Minnesota resident before relocating to his home country to participate in its development. He reminded those present that all his children were born here.
Councilman Warsame had echoed the minister's sentiments when introducing him to speak when he said the relationship will be a mutually beneficial one once fully established. He said the formation of Maakhir was due to contribution of resources locally in Puntland as well as the Somali diaspora.
Minneapolis mayor Jacob Frey who said his successful mayoral campaign was due in large part to the support from the Somali community, pledged the city's support in ensuring the success of the relationship and the overall success of the Somali community in his city.
"This sister university relationship is not about just bridging gaps but about expanding our intellectual horizons, greater understanding and will result in economic gains in Minneapolis and Somalia," said mayor Frey. The mayor went on to say that he would encourage other US universities seeking to establish similar relationships abroad to follow the North Central and Maakhir model.
North Central University Dean of the College of Graduate and Professional Education Renea Brathwaite spoke to Mshale after the signing ceremony. He will be in charge of steering the relationship on behalf of his institution. Dean Brathwaite said inter-university collaborations would likely grow from a number of collaborative projects among individual faculty at both institutions. In addition to exchanging visits between the two universities, he is looking forward to NCU helping Maakhir develop its faculty.
Brathwaite said his team has been working with the Maakhir team for a period of over six months to get to the signing ceremony. He gave credit to Abdi Salah, Mayor Frey's senior policy aide who first mooted the idea of forming the sister university relationship. President Hagan drew applause during his remarks when he referred to Salah, a rising star in the Minnesota Somali leadership circle, as a future mayor of Minneapolis.
"We are very excited about this partnership," Brathwaite said. "We are looking at this as an opportunity to connect more deeply with the community here in Minneapolis but also by extension Somalia."

Born and raised in Kenya's coastal city of Mombasa, Tom is the Founder, Editor-in-Chief and Publisher of Mshale which has been reporting on the news and culture of African immigrants in the United States since 1995. He has a BA in Business from Metro State University and a Public Leadership Credential from Harvard's Kennedy School of Government. He was the original host of Talking Drum, the signature current affairs show on the African Broadcasting Network (ABN-America), which was available nationwide in the United States via the Dish Network satellite service. On the show, he interviewed Nobel laureates such as 2004 Nobel Peace prize winner, Professor Wangari Maathai, the first woman from Africa to win the peace prize and heads of states. Tom has served and chaired various boards including Global Minnesota (formerly Minnesota International Center), the sixth largest World Affairs Council in the United States. He has previously served as the first Black President of the Board of Directors at Books for Africa. He also serves on the boards of New Vision Foundation and the Minnesota Multicultural Media Consortium. He has previously served two terms on the board of the United Nations Association. An avid runner, he retired from running full marathons after turning 50 and now only focuses on training for half marathons.





(No Ratings Yet)


Loading...