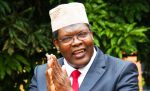 Miguna Miguna, a Kenyan opposition figure is scheduled to give an address to Kenyans in Minnesota on Saturday, March 17 at the City of Brooklyn Park Community Center. The event starts at 4pm with the official program expected to commence at 5pm, organizers told Mshale.
Miguna who holds dual Canadian and Kenyan citizenship was 'deported' to Canada by the regime in power in his birthplace of Kenya after he was held in detention for four days for officiating the swearing in of opposition leader Raila Odinga as the "People's president". Following a court order to produce him in court, government authorities defied the order and dramatically 'deported' him to Canada. He has been on a tour to meet with the Kenyan diaspora and has so far spoken in New Jersey, Washington DC, and Texas.
His visit was planned before last week's major political event in Kenya where president Uhuru Kenyatta and his erstwhile opponent Raila Odinga announced a Memorandum of Understanding (MoU) to work together, a development Miguna has termed a sellout by Odinga. Kenyatta has been governing under a cloud of illegitimacy since the October 26 elections last year that the main opposition led by Odinga boycotted. Last week's MoU development came a day after country's finance minister said in parliament that the country was broke and cannot fund its development projects. The IMF issued a warning last month that the country's debt levels was approaching "unsustainable levels." Moody's has forecast that government debt in East Africa's largest economy will increase to 61 per cent of GDP in the 2018/19 financial year from 56 per cent in 2016/17 and 41 per cent in 2011/12.
Miguna's visit to Minnesota will be watched closely as it will be the first public event he will address since the Uhuru-Odinga MoU. His 'deportation' has sparked renewed interest in the dual citizenship clause in Kenya's constitution by its citizens in the diaspora who like Miguna have dual citizenship.
John Makori, chairman of the Minnesota chapter of NASA which is hosting Miguna said they look forward to hearing from him "on the changed landscape" referring to the MoU between Kenyatta and Odinga.
What: Miguna Miguna in Minnesota
When: Saturday, March 17, 2018
Time: 4PM-10PM (formal program starts at 5PM)
Where: Brooklyn Park Community Center, 5600 85th Ave N, Brooklyn Park, MN 55443
ALERTS: Subscribe to text alerts from Mshale on any late developments to this event: Text KENYA to 24587.

Born and raised in Kenya's coastal city of Mombasa, Tom is the Founder, Editor-in-Chief and Publisher of Mshale which has been reporting on the news and culture of African immigrants in the United States since 1995. He has a BA in Business from Metro State University and a Public Leadership Credential from Harvard's Kennedy School of Government. He was the original host of Talking Drum, the signature current affairs show on the African Broadcasting Network (ABN-America), which was available nationwide in the United States via the Dish Network satellite service. On the show, he interviewed Nobel laureates such as 2004 Nobel Peace prize winner, Professor Wangari Maathai, the first woman from Africa to win the peace prize and heads of states. Tom has served and chaired various boards including Global Minnesota (formerly Minnesota International Center), the sixth largest World Affairs Council in the United States. He has previously served as the first Black President of the Board of Directors at Books for Africa. He also serves on the boards of New Vision Foundation and the Minnesota Multicultural Media Consortium. He has previously served two terms on the board of the United Nations Association. An avid runner, he retired from running full marathons after turning 50 and now only focuses on training for half marathons.





(1 votes, average: 3.00 out of 5)


Loading...