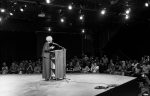 MINNEAPOLIS (Mshale) – Minnesota State Representative Ilhan Omar officially launched her campaign for Minnesota's Fifth Congressional District seat last night at the Mixed Blood Theater in Cedar-Riverside. Minnesota's Fifth Congressional District includes Minneapolis and the suburbs of Brooklyn Center and St. Louis Park.
The seat became vacant after the incumbent, Congressman Keith Ellison, launched a surprise bid to become Minnesota's attorney general, that, after the state's attorney general abandoned her reelection bid and instead decided to contest for the governorship. Ellison was the first Muslim elected to Congress and is the current deputy chair of the Democratic National Committee (DNC).
Omar and other candidates had less than five hours to decide whether to run for the seat after Ellison announced his decision to run for attorney general with hours to spare before the state filing deadline.
The district is overwhelmingly Democratic and the winner of the scheduled August 14 primary on the DFL side will more than likely be the next representative to Congress. Omar will square off against four other candidates after another one, State Senator Bobby Joe Champion, dropped out just days after filing.
A capacity crowd turned out to witness the launch on Thursday and Omar was seldom by herself throughout the night, spending most of her time in conversation with enthusiastic individuals in attendance. She shook hands with virtually everyone in the capacity crowd.
In 2016, she became the first Muslim woman and Somali-American to be elected to a state legislature in the country and will become the first Muslim woman elected to Congress if she succeeds.
"When you look at Ilhan, she's a Somali-American woman, refugee, immigrant, mother — so many other things. These are all identities that weren't meant for congress, that have been excluded from politics," stated Merone Melekin, a campaign volunteer.
Rep. Omar addressed the crowd Thursday highlighting her remarkable journey to the race for congress and reflecting on her victories in Washington and Minnesota as a state representative and assistant minority leader. She also paid tribute to the black trans women of the historic Stonewall Riot.
"During our last election we made history. We ignited interest and built a movement of young people, people of color, and brought new voters into the party. We increased the voter turnout by 37 percent and proved that our voices are powerful…We are excited to run a people centered campaign about people centered issues," Representative Omar stated.
Omar also spoke of her plans to continue to challenge the status quo and fight for her community and the people on the margins.
"I wake up like many of you every morning and see the skyrocketing student debt, the high cost of childcare, the struggle of working parents, the destruction of our public school education, the busting of our unions and safety nets, mass incarceration of black and brown bodies. We see people deeply invested in making our trans community invisible. We see the demonization of religious minorities…The solution is not having people fight for women, fight people of color, fight for young people and immigrants. The solution is to make sure we are elected to be the voices in those positions," Omar stated, igniting the crowd.
Rep. Omar was followed by Wintana Melekin, a community organizer who stressed the importance of continuing to normalize the presence of marginalized voices in seats of office through voting and supporting campaigns like Omar's.
"The only way we're going to win this campaign is if we have a campaign that is funded by us, led by us," Melekin stated.
Meanwhile, the DFL (as the Democrats are called in Minnesota), announced early this week that the party will hold a special endorsing convention on Sunday, June 17 to fill the Fifth Congressional seat.
In a statement, the party said Ellison's decision to vacate his seat and run for attorney general "resulted in a great deal of confusion and interest" in how the party would handle the August 14 primary and determined it would be in the best interest of the party for delegates to have a chance to endorse a candidate.
Among those who will be seeking the endorsement on Sunday are former Minnesota House speaker Margaret Anderson Kelliher, state Sen. Patricia Torres Ray, Jamal Abdi Abdulahi and Frank Nelson Drake. Regardless of who gets the endorsement, all candidates will have their names on the ballot in the August 14 primary, including State Sen. Bobby Joe Champion, who dropped out this week but was too late to remove his name. The endorsed candidate however will have the benefit and power of the party infrastructure behind their campaign.
Ilhan Omar full speech here.

Bethel is a general assignment reporter and photojournalist at Mshale. She is based in Atlanta.





(No Ratings Yet)


Loading...