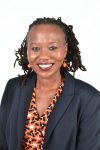 Dr. Roselyn Akombe, the Chief of Policy, Guidance and Learning at the United Nations Department of Political affairs in New York will be the keynote speaker on June 30 at the Minnesota Kenyans International Development Agency (MKIDA)'s graduation gala. The event starts at 5 pm, at the Double Tree Hotel in Brooklyn Center. The annual gala honors those who have graduated high school and college at all levels.
Dr. Roselyn Akombe has served as commissioner of the Independent Electoral and Boundaries Commission (IEBC) of Kenya and an under-Secretary at the United Nations headquarters in New York. She became illustrious within the Kenyan media and Kenyans in the diaspora after controversially resigning from her post as a commissioner on 18 October 2017 amid a political quandary in Kenya. Soon after her resignation, she flew out of the country alluding fears for her life.
The 42 year old Kenyan-American is impressively remembered for agreeing to take a 70% pay cut from her previous job as an Under-Secretary at the United Nations in order to provide technical electoral support to the IEBC of Kenya in preparation for the 2017 elections. She professed a great desire to prevent a re-occurrence of post-electoral violence in Kenya by enabling a free and fair electoral environment. Her visit to Minnesota will be indeed one to watch out for.
Kenyan-Minnesotans including those who loathe her controversial exit from Kenya will be congregating at the Double Tree Hotel in Brooklyn Center expectant to take a chance and seek some answers from her on her professed great desire for free and fair elections, controversial exit and the way forward on the electoral reforms in Kenya.
What: MKIDA Graduation Gala featuring Dr. Roselyn Akombe
When: Saturday, June, 30, 2018
Time: 5PM
Where: Double Tree Hotel, 2200 Freeway Blvd, Brooklyn Center MN
Admission: Visit MKIDA website for details.
ALERTS: Subscribe to text alerts from Mshale on any late developments to this event: Text KENYA to 24587.

Sylvia Nyambeki is a skilled writer; previously championing articles such as Marketing Tips for Kenyan C.E.O's and Is Marketing an un-necessary luxury for Small Kenyan businesses? She is a practicing educationalist who has taught at The Technical University of Kenya and St. Paul's University in Nairobi, Kenya. She has also served as a mentor and mentor coordinator for young girls with The Global give back circle. She is currently pursuing her doctorate in International Economics and academic research in corruption and its implications on Intra-regional trade.





(1 votes, average: 5.00 out of 5)


Loading...