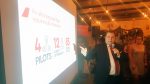 NEW YORK – Kenya Airways CEO Sebastian Mikosz and the airline's chairman Michael Joseph met with members of the media to discuss their Nairobi to New York non-stop flight that is scheduled to launch in October.
The 'Pride of Africa' announced in January that it will start a daily nonstop flight from Nairobi to New York, beginning on October 28. The flight will be the "first true non-stop from East Africa" Mikosz pointed out Wednesday night to the US media as Ethiopian Airlines, which has direct flights to Addis Ababa, has to make a stopover in Dublin.
Media personalities and travel enthusiasts met with the airline executives at a boutique hotel near Times Square, including Bob Mwaura the airline's US country manager.
Mikosz described the new direct flight offering "as the fastest and most convenient" into East Africa and should make for easier connections to the entire Kenya Airways network. He said the flight departure time from Nairobi of 11:25 PM was chosen intentionally to allow for those getting into Nairobi from other parts of the Kenya Airways network to connect to the New York flight.
"You can leave Nairobi after dinner and be in New York for breakfast in time for your morning meeting," said Mikosz.
The airline CEO used a PowerPoint presentation to outline the more than twenty US companies that have their Africa operations in Nairobi that would benefit from the convenience of the direct flight. Those companies include household names such as Coca-Cola, Google, Uber and Microsoft. Kenya is also host to the only United Nations headquarters that is in a developing country. The United Nations which is headquartered in New York runs three other subsidiary headquarters around the world that include Geneva, Vienna and Nairobi.
That is not to say the road to launching the direct flight has been easy. Messrs. Joseph and Mikosz did not mention this during their official remarks with media but in a sideline interview with Mshale revealed they have not received much cooperation, if any, from their SkyTeam partner, Delta.
"They are not happy we are coming in," Joseph said. "But we are working around it and are making progress". Mikosz on his part told Mshale he is not surprised at the cold shoulder from Delta and has since moved to partner with American Airlines to smooth its entry into the US skies. American is the US's largest carrier based on number of passengers carried which was 209 million on 2.2 million flights in 2017. Delta which is part of the SkyTeam Alliance with Kenya Airways was second with 186 million passengers last year.
The Kenya government owns 48.9 per cent stake of the airline while a consortium of eleven Kenyan banks have a 38.1 per cent stake. Air France-KLM whose share of passengers from the US to Kenya will be affected by Kenya Airways' entry here decreased its stake in the airline last year from 26.7 per cent to 7.8 per cent.
In Minnesota, one of the states with a large Kenyan diaspora, a group Mikosz said on Wednesday he will go after aggressively, KLM and Delta provide most of the travel on the common Minneapolis/St. Paul to Amsterdam then on to Nairobi.
"We are working very hard to make it easier for our diaspora to fly us through codeshares and the like," said Mikosz.
The CEO also said as part of their readiness to enter the US market, they are busy "Kenyanizing" the experience of flying the new route by engaging a top Kenyan chef to offer Kenyan cuisine. The crew's uniform is also slated for a change.
Koki will fly inaugural flight
Mikosz also told Mshale that he expects the celebrated Kenya Airways captain, Irene Koki, to fly the inaugural flight to New York. Koki is Africa's first female Dreamliner captain. Kenyan media reported that she had been chosen to fly the inaugural flight but later carried a clarification from Koki that the airline had yet to decide on the captains for the first flight into the US.
"She (Koki) is very active on social media and the media loves her," Mikosz said. "So, I don't see why she would not be one of the captains on that (inaugural) flight. So yes."
East Africa US diaspora post-Christmas sale
As part of their foray into the US market, Kenya Airways also unveiled special rates for travel from JFK to Nairobi, Entebbe, Dar es Salaam and Kigali with fares as low as $699 roundtrip. The rates were revealed by the airline's senior sales manager for key markets Jennifer Njuguna, who was present at the media briefing.
Tickets for the special rate must be purchased by July 20. To get the special rate, the traveler must depart JFK on December 27, 28 or 29 and leave Nairobi any day after January 8. Rates are subject to availability at the time of booking.
Using code CHRISTMASPRO that she provided, Mshale on the evening of July 12 tested travel from JFK to Nairobi on December 29 with a return on January 9 and came up with a fare of $720 on Kenya-Airways.com. To Entebbe from New York on the same dates it came to $1,120.
"We will soon roll out another deal that is for travel any time and with a longer validity," Njuguna said.

Born and raised in Kenya's coastal city of Mombasa, Tom is the Founder, Editor-in-Chief and Publisher of Mshale which has been reporting on the news and culture of African immigrants in the United States since 1995. He has a BA in Business from Metro State University and a Public Leadership Credential from Harvard's Kennedy School of Government. He was the original host of Talking Drum, the signature current affairs show on the African Broadcasting Network (ABN-America), which was available nationwide in the United States via the Dish Network satellite service. On the show, he interviewed Nobel laureates such as 2004 Nobel Peace prize winner, Professor Wangari Maathai, the first woman from Africa to win the peace prize and heads of states. Tom has served and chaired various boards including Global Minnesota (formerly Minnesota International Center), the sixth largest World Affairs Council in the United States. He has previously served as the first Black President of the Board of Directors at Books for Africa. He also serves on the boards of New Vision Foundation and the Minnesota Multicultural Media Consortium. He has previously served two terms on the board of the United Nations Association. An avid runner, he retired from running full marathons after turning 50 and now only focuses on training for half marathons.





(1 votes, average: 5.00 out of 5)


Loading...