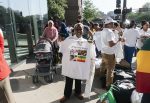 MINNEAPOLIS — Over 10,000 members of the Ethiopian diaspora from around the US, including Canada, packed Target Center on Monday to hear from Ethiopia's new Prime Minister, Dr. Abiy Ahmed, and Oromia Regional President Lemma Megersa.
The prime minister's Minneapolis visit was the last of the three US cities he was visiting to spread his message of peace and reconciliation that has caused a sensation in the region and the diaspora.
The lines to get into the venue started early. Meleate Tsegaye, Fatuma Lali, Kedija Osman ZZ, and Alemnesh Tulu were first in line. They arrived at 5AM t to see the leaders, who were not scheduled to speak until 2:30 PM.
"I am here to tell them we are with you and we will work with you. We are happy. We are here to thank God for bringing new things for our country. The enemy's work and curse which is hatred and racism is broken today," said Tsegaye.
"The reason we left is because of lack of peace. Today we are ready to go back and help our country," said Lali.
Upbeat support and optimism were the order of the day as people filed into the arena waving the flags of Oromo, Ethiopia, Ogaden, and Eritrea. They chanted, sang and danced as they awaited the arrival of the dignitary they had come to see.
The celebration inside Target Center however was not universally shared, as critics of the prime minister were also present. Boos and voices of disapproval could be heard as the proceedings went on.
Feven Ayana, a senior at the University of Minnesota and former Vice President of the Ethiopian Student Association, had her performance cut short as tensions escalated inside the arena.
"I was deeply saddened by the tension in the arena, but we were all excited to bring some diverse Ethiopian performances to our leaders, and our communities. We came on stage prepared to represent a wide range of Ethiopian identities," Ayana stated.
Oromia Regional President, Lemma Megersa was first to speak, and took the opportunity to praise the crowd for gathering in unity, despite their differences.
Prime Minister Abiy who followed, called on the diaspora to knock down the walls between them and build bridges. He took responsibility for the tension in the arena and apologized for the performances that were cut short. He called on the older generation to guide the youth in peace and unity.
The prime minister shared the stage with Jawar Mohammed, who previously faced terror-related charges for messages spread on Oromo Media Network, which Dr. Abiy dismissed when he came to power. The Prime Minister embraced Mohammed and called on members to do the same with love and forgiveness. The crowd listened, chanted in happiness and hugged each other in agreement as the four-hour program concluded.

Bethel is a general assignment reporter and photojournalist at Mshale. She is based in Atlanta.





(1 votes, average: 5.00 out of 5)


Loading...