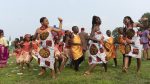 Afrobeat and Afropop music blared from speakers on a decorated stage, aromatic scents of plantain and spices, clothing vendors and community nonprofits, Igbo women in long patterned dresses and head wraps folded with origami-like precision, Igbo men wearing traditional caps and garments, and children following suit. This was the scene at North Hennepin Community College in Brooklyn Park on Saturday, where an estimated 1,000 people gathered IgboFest, a celebration of Igbo culture and heritage. The Igbo hail from south-central and southeastern Nigeria and comprise almost 20% of Nigeria's population of 196 million (UN estimates).
The event, now in its 25th year, continued its streak of good fortune as cooperating weather allowed it to be held outdoors in the expansive grounds of North Hennepin. It is organized each year by Umunne Cultural Association in Minnesota. At this year's festival, food trucks such as Damota's Kitchen and Kona's Ice and other no-name food vendors did brisk business. Political campaigns especially from the DFL party were out in full force with primaries just days away.
Mazi Onyeka Tony Osakwe, Chairman of IgboFest 2018 set the tone early with his message to attendees and supporters of his community "I consider teaching our children Igbo language and culture, and the achievement orientation of the Igbo ethnic group of paramount importance and cultural imperative."
To that end, the chairman's message was put on display in practical ways in the afternoon-long celebration. First to perform was the children's choir led by the Igbo Women's League in an acapella Okwute melody. The Women's League had a hand in many of the performances led by youth, including the Umunne Teenage Girls Dance and Drummer Boy's Circle.
The two masters of ceremonies called group after group including Igbo counterparts from Winnipeg in the Canadian province of Manitoba who have been a consistent presence in Minnesota's past IgboFest. The Minnesota group returns the favor by visiting Manitoba each year to participate in their IgboFest.
Over twenty groups performed at this year's IgboFest. The Egba Eze Masquerade and the Anambra Masquerade were one of the main hits at the festival, their multi-colored robes and masks, and surrounding dancers attracting the attention and gaze of most attendees. You can watch Mshale's livestream of some of the performances here, here and here.
During each dance, ecstatic members of the audience joined the performers, tossing dollar bills to express their praise. People of all ages danced, sung, and expressed their joy in Igbo culture.
The afternoon celebration was to be followed by Nigerian Afropop crowd puller, Yemi Alade, in her debut Minnesota concert, in town at the invitation of Umunne for its 25th Anniversary celebration of IgboFest.

Bethel is a general assignment reporter and photojournalist at Mshale. She is based in Atlanta.





(No Ratings Yet)


Loading...