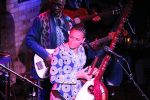 Summer in Minnesota is finally here and with that comes live African music and cultural festivals. While our state didn't make Allianz Partners' 2023 Top 10 Domestic Destinations list, touring African artists are making their way to us and there are also plenty of local ones you can take in this summer and yes there is also the Bayfront Reggae & Music Festival in Duluth, with roundtrip shuttle available for those in the Twin Cities.
Here is what Mshale staff know is happening. Bookmark this page as acts will be added as we learn of them. Feel free to send us what we missed at this link.
Gili Yalo with DJ Fawzi
Thursday, June 1 @ Cedar Cultural Center
Read Mshale's review of his last show in Minneapolis
Nimcaan  Hilaac & Hilaac Band with Bashir Jaawi
Friday, June 2 @ Cedar Cultural Center
Kenya's Madaraka Day Family Day at the Park
Sunday, June 4 @ Centennial Park in Brooklyn Center
Siama's Congo Roots
Thursday, June 8 @ Minnesota Zoo in Apple Valley
Bloomington Reggae Fest ft. the International Reggae All Stars
Thursday, June 15 @ Normandale Lake Bandshell
Jupiter & Okwess
Tuesday, June 20 @ Cedar Cultural Center
Sophisticated African Fashion
Friday, July 7 @ Mall of America
Bayfront Reggae & World Music
Saturday, July 15 in Duluth (Roundtrip trip shuttle service from Minneapolis available!)
Kashimana with ShaVunda Brown
Friday, July 28 @ Cedar Cultural Center
Fanaka Nation
Thursday, August 3 @ Minnesota Zoo in Apple Valley
Little Africa Fest 2023
Sunday, August 6 @ Hamline Park in St. Paul
IgboFest 2023
Saturday, August 12 @ Brooklyn Park
Sona Jobarteh
Monday, August 14 @ Cedar Cultural Center
Read our review of her last show in Minneapolis in March.
Nduduzo Makhathini
Wednesday, August 30 @ The Dakota





(1 votes, average: 5.00 out of 5)


Loading...