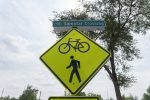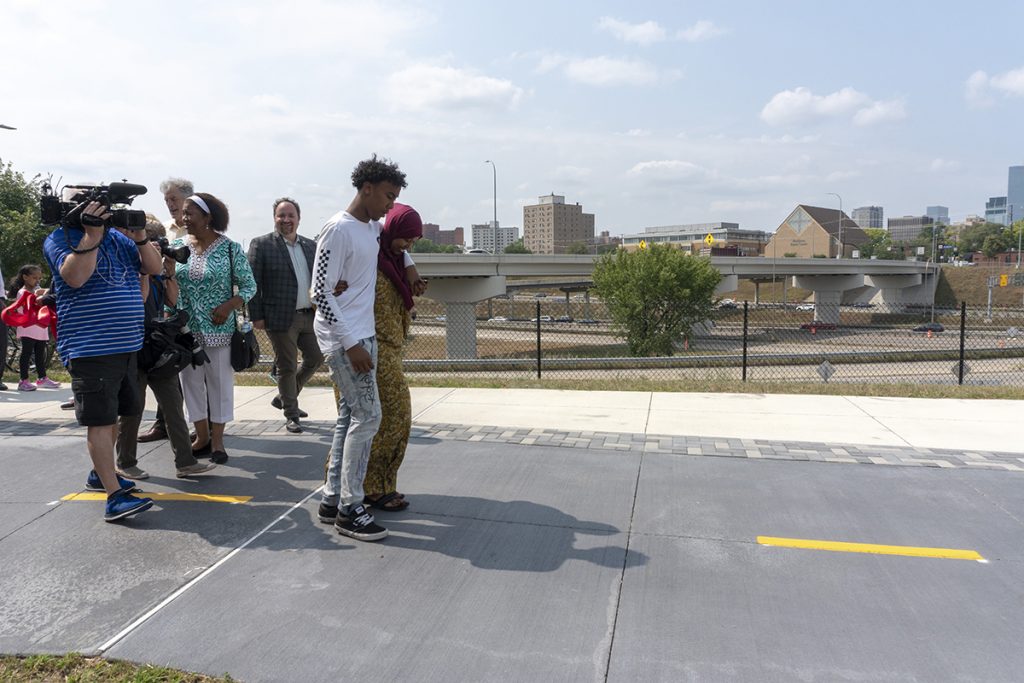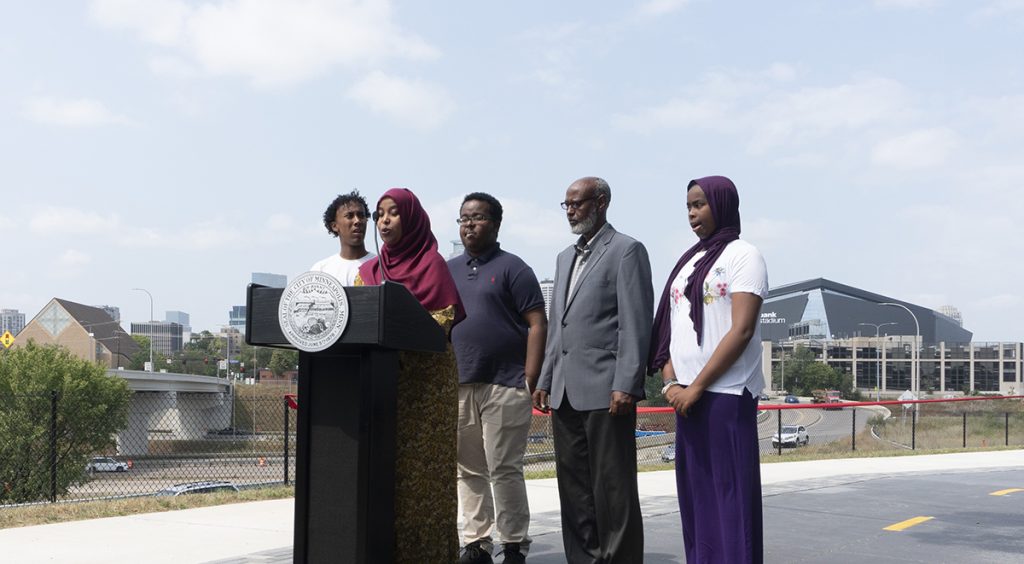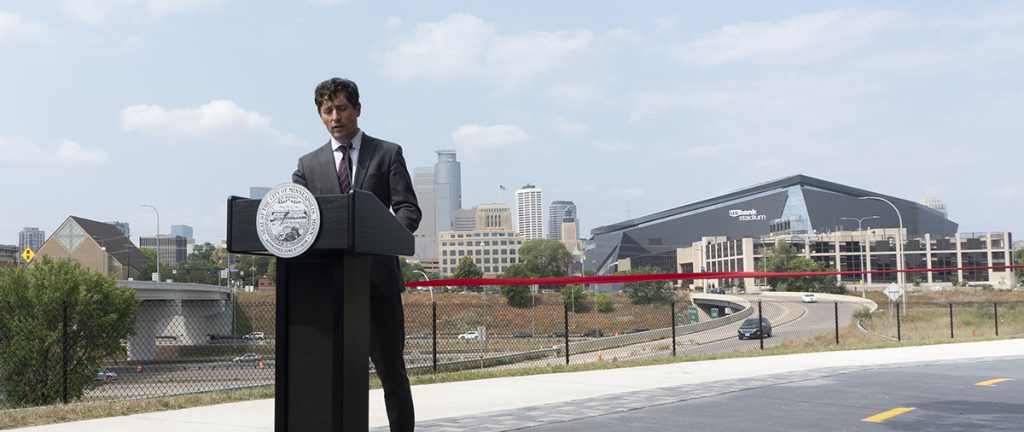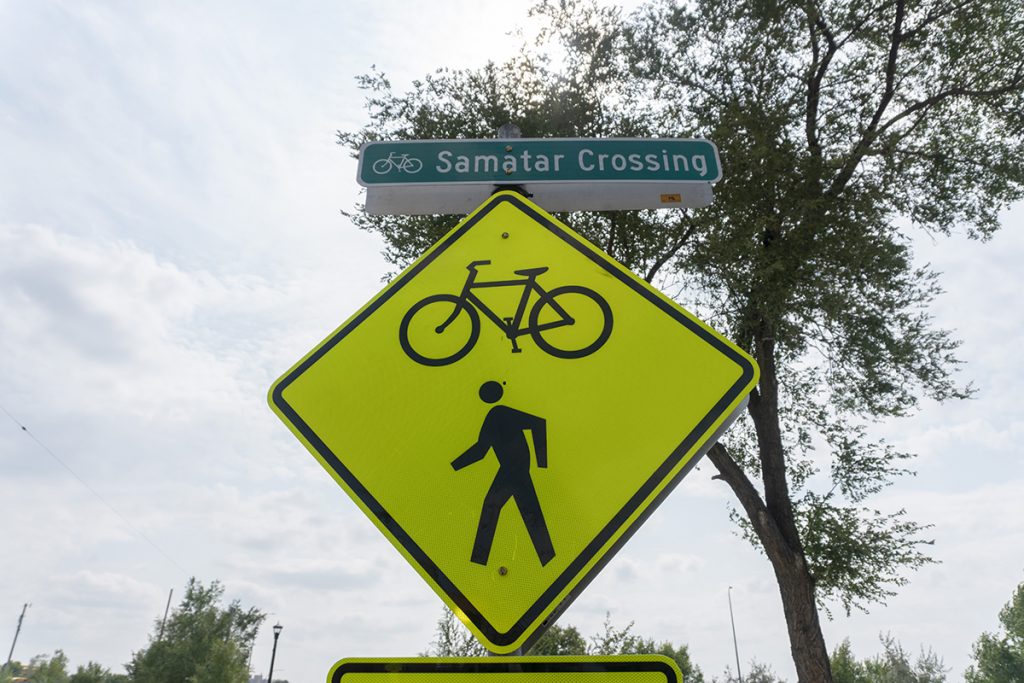 Minneapolis welcomed a new connection between the Cedar-Riverside neighborhood and downtown Minneapolis, a pathway called Samatar Crossing, with a ribbon cutting celebration on site. The pathway starts at the Cedar-Riverside light rail station and connects directly to Minnesota's largest public works project to date, US Bank stadium.
About 100 members of the community, which included elected county and city officials, gathered to witness the new pathway that will allow for walking and biking with ease between Cedar-Riverside and downtown.
Samatar Crossing is named after Hussein Samatar, founder of the African Development Center and a former Minneapolis School Board member and the first Somali-American elected to public office in the United States, before he died in 2013.
Samatar's wife, Ubah Jama, spoke of her late husband's love for America and dedication to his adopted country.
"Hussein always used to say we are Somali-Americans and we are here to stay. His positive energy, dedication, and sense of helping others was remarkable. Hussein loved this community and was passionate about uplifting and connecting communities," Jama said. "Now seniors and children will be able to walk and bike in a secure beautiful path that is safe. I want to thank the city of Minneapolis, especially former Mayor Rybak and Councilman Warsame and Mayor Frey for making this legacy a reality."
Nasibu Sareva, the executive director who succeeded Samatar at the African Development Center, echoed Jama's sentiments. "Hussein was all about unity and this is a fitting tribute to him and an example to all our Africans that all is possible as we keep his (Samatar's) legacy alive," said Sareva.
Councilman Abdi Warsame, who presided over the ribbon-cutting ceremony, said Samatar was a mentor and inspiration to many including him.
"This (Samatar Crossing) is a testament to who Hussein was. He worked all his life to connect people and to bridge communities and the fact that we are connecting two communities, Cedar-Riverside and downtown, is a testament to his work," Warsame said.
Warsame added that Samatar was an important figure in the community and "the vanguard of the Somali political movement that has now ushered in Ilhan Omar, Siad Ali, Hodan Hassan and others. The African community in Minnesota is integral to its success and will drive it into the future."
The unveiled Samatar Crossing is the former Fifth Street ramp into downtown Minneapolis that the Minneapolis Public Works Department repurposed into a pathway for pedestrian and bicycle only traffic. Mayor Jacob Frey admitted to the challenge in achieving the milestone that is Samatar Crossing in his remarks.
"This project wasn't easy, this is a tough one, to transform something that was previously an off-ramp for motorized vehicles and turning it into an urban paradise just for pedestrians, it ain't easy," said Frey and added that Samatar was known to take on tough projects and to fight for his community and a challenging project like the repurposing was a fitting tribute to his legacy. He praised the Public Works Department for the accomplishment. That department's director, Robin Hutcheson, said city staff did the entire project and that no outside contractors were used.
"This is saying to our Somali population, to our new American population that yes you are part of this city, you matter and we want you here," Mayor Frey said.
There are plans for additional landscaping and public art along the pathway and the city has issued a call for artists. It is seeking up to three artists to collaborate on the design of an "iconic public artwork" for the crossing.
Third Ward Councilman Steve Fletcher also spoke and recalled how Samatar was highly respected by both his Somali community and those outside. "I was very lucky to work with Hussein Samatar when he was on the school board, what I loved about working with him was that he was so important to the Somali community, but also to everyone else, and when we came to him with issues that had no direct impact on his community like North High School, but were citywide issues he would listen," said Fletcher.
After the ribbon-cutting, Ubah Jama and some of the elected officials made a symbolic walk along Samatar Crossing.

Born and raised in Kenya's coastal city of Mombasa, Tom is the Founder, Editor-in-Chief and Publisher of Mshale which has been reporting on the news and culture of African immigrants in the United States since 1995. He has a BA in Business from Metro State University and a Public Leadership Credential from Harvard's Kennedy School of Government. He was the original host of Talking Drum, the signature current affairs show on the African Broadcasting Network (ABN-America), which was available nationwide in the United States via the Dish Network satellite service. On the show, he interviewed Nobel laureates such as 2004 Nobel Peace prize winner, Professor Wangari Maathai, the first woman from Africa to win the peace prize and heads of states. Tom has served and chaired various boards including Global Minnesota (formerly Minnesota International Center), the sixth largest World Affairs Council in the United States. He has previously served as the first Black President of the Board of Directors at Books for Africa. He also serves on the boards of New Vision Foundation and the Minnesota Multicultural Media Consortium. He has previously served two terms on the board of the United Nations Association. An avid runner, he retired from running full marathons after turning 50 and now only focuses on training for half marathons.





(1 votes, average: 5.00 out of 5)


Loading...