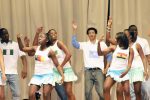 New immigration rules effective August 9 could have serious consequences for students on F-1 visas, the most common visa among international students.
The United States Citizenship and Immigration services last week sent out a final memorandum ironing out a rule change aimed at reducing visa overstays.
Until this new rule change came into effect, students who dropped out of school, failed to maintain the minimum number of hours, or otherwise fell out of good standing – "unlawful presence" status did not kick in until after the government formally notified them. That changes with this new rule.
International students will start accruing days of 'unlawful presence' immediately after they no longer meet the terms of their student visa, according to this new U.S. Citizenship and Immigration Services policy.
It is not uncommon for students on F-1 to take a semester off because maybe they cannot afford a class or a particular class is not being offered and still stay in the country while they wait to resume classes. That will no longer be possible with the new rules as once a student skips, "unlawful presence" would already have accumulated and they will need to leave the country.
According to the new rules, a student accumulating more than six months of "unlawful presence" could be barred from entering the United States from three to ten years.
As of the July 2018 reporting data from the Department of Homeland Security, there were around 51,000 active students on international student visas (F-1, M or J) from Africa. Asia has the largest number of students with over 860,000 with Europe a distant second at 78,000 students.





(No Ratings Yet)


Loading...