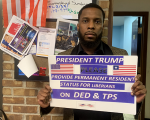 Liberians in Minnesota will hold a rally Friday (February 22) on the steps of Minnesota State Capitol to call for a two-year extension of Temporary Protected Status and a pathway to citizenship, Erasmus Williams, chair of the Liberian Immigration Coalition told Mshale. The rally starts at 1:00pm. Free buses will depart starting at 9:30am at Ebenezer Community Church located at 9200 West Broadway in Brooklyn Park.
In March 2018, president Trump issued a memo ending DED for Liberian citizens, which allowed those with temporary protected status (TPS) to remain in the U.S. after their TPS designation ended. Liberians in the United States have been instructed to leave the country by March 31, 2019 or seek alternative immigration status if they are eligible.
The situation facing Liberians was on the national spotlight last month during Trump's State of the Union address when Congresswoman Ilhan Omar, who was born in Somalia, had as her guest to the SOTU address Linda Clark. Clark, is a Liberian under DED, and is facing deportation should no further extensions or relief be extended by president Trump.
"Donald Trump should be ashamed of himself for deliberately targeting people like me," Clark said at the time. "(I) hope the President will listen to my story."
The Friday rally is organized by a coalition consisting of the Organization of Liberians in Minnesota, Masjid Al Ansar, African Immigrant Services and the Liberian Ministers Association.
More info on the rally can be found at this link.

Born and raised in Kenya's coastal city of Mombasa, Tom is the Founder, Editor-in-Chief and Publisher of Mshale which has been reporting on the news and culture of African immigrants in the United States since 1995. He has a BA in Business from Metro State University and a Public Leadership Credential from Harvard's Kennedy School of Government. He was the original host of Talking Drum, the signature current affairs show on the African Broadcasting Network (ABN-America), which was available nationwide in the United States via the Dish Network satellite service. On the show, he interviewed Nobel laureates such as 2004 Nobel Peace prize winner, Professor Wangari Maathai, the first woman from Africa to win the peace prize and heads of states. Tom has served and chaired various boards including Global Minnesota (formerly Minnesota International Center), the sixth largest World Affairs Council in the United States. He has previously served as the first Black President of the Board of Directors at Books for Africa. He also serves on the boards of New Vision Foundation and the Minnesota Multicultural Media Consortium. He has previously served two terms on the board of the United Nations Association. An avid runner, he retired from running full marathons after turning 50 and now only focuses on training for half marathons.





(No Ratings Yet)


Loading...