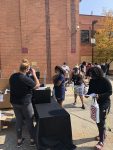 On September 23, the Minnesota Department of Employment and Economic Development (DEED) distributed one hundred free computer packages for Minnesotans in need. Dozens of Minnesotans will now be able to search for and apply for jobs on their personal computers.
"We recognize that not having access to a computer or the internet makes getting a job during the pandemic very difficult," said Hamse Warfa, the Department's Deputy Commissioner. "That's why CareerForce is focused on addressing the digital divide that keeps many Minnesotans looking for work now from connecting with the employers who need them."
The computer distribution was also sponsored by the City of Minneapolis and Lovitude, through its financial support. CareerForce staff and partners helped run the event, which was held in the parking lot outside the CareerForce location on Lake Street.
The computer packages included a refurbished donated desktop PC and monitor, as well as a webcam, keyboard, mouse, Wi-Fi adaptor, cords and basic software programs. The event occurred in partnership with the non-profit organization PCs for People.
The COVID-19 pandemic has resulted in record unemployment rates across the country. These new rates have been disproportionately affecting underserved and communities of color.
In an effort to help Minnesotans in the workforce, the DEED has had a series of initiatives aimed at aiding individuals in finding and retaining employment. Among them was providing all Minnesota residents free access to Coursera, an online learning platform that offers specializations, degrees, professional and master track courses. The service is available until March of 2021 but individuals must register by December 31, 2020.
Deputy Commissioner Warfa encourages individuals to leverage the resources available to them in obtaining and retaining employment. "We see the needs in our community, we want to encourage folks to take advantage of available resources," he said.
To access the various resources that the DEED offers for employment you can visit the Minnesota CareerForce website. They offer career exploration and job search services both over the phone and online.
The DEED serves as the state's principal economic development agency, promoting business recruitment, expansion and retention, workforce development, international trade and community development. For more details about the agency and its services visit the DEED's website.
Cynthia is a graduate of the University of Minnesota School of Journalism. She has interned at Mshale and Voice of America and previously worked at the Minnesota Daily. She recently returned from Seoul, South Korea where she was an English educator.





(2 votes, average: 5.00 out of 5)


Loading...