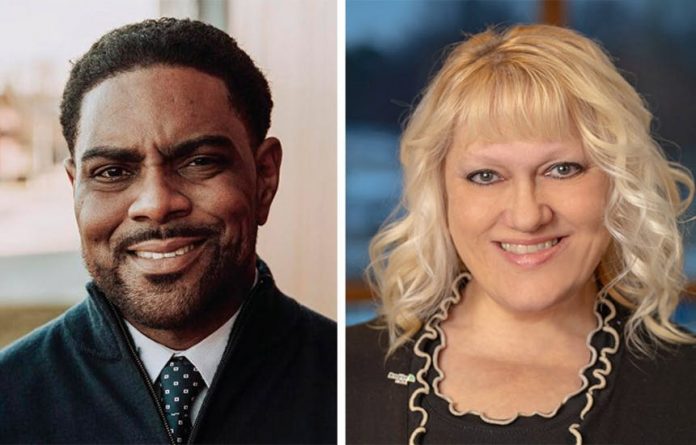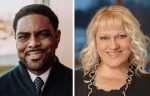 Hollies Winston and Lisa Jacobson, the two contenders in the race to be the next mayor of Brooklyn Park, offered their vision and solutions for the city on Tuesday during a televised forum hosted by the North Metro Mayors Association. The special election is on August 10 and early voting is already underway and will continue through August 9.
The forum was moderated by Maple Grove's mayor, Mark Steffenson. You can watch the full forum at this link.
Here are some of the highlights of what each candidate said:
Diversity
Hollies Winston: "Putting together coalitions that deal with folks from all different communities, ethnicities, religions. And then when you look at my campaign itself, it represents Brooklyn Park."
"I think when you say you support diversity, or when folks say they support diversity, it's much more of an action, even when we're uncomfortable, that we need to partake of."
Lisa Jacobson: "Having a dedicated community engagement team on staff is a start. I have supported that work in the city budget, but we all have to be out building relationships and investing in high quality diverse communication vehicles, engaging people more through multicultural events and activities. We cannot rely on electronic means and the US Postal Service as we once could."
Business & Employment
Lisa Jacobson: "I just voted to support a program with LIBA which is our Liberian Business Association, to assist businesses with QuickBooks and keeping accurate records. I also supported funding and program at the OLM to provide a new career track for certified nursing assistants and TMAs."
"I also voted to eliminate license fees during the pandemic so that businesses could stay afloat while they had little to no income, and I will continue to be a voice for business. With employment, I have continually addressed every business that comes to our city and encouraged them to look at our residents first as their employees."
Hollies Winston: "Brooklyn Park needs to be there front and center, so there's $7 million at the state level that was allocated for technical assistance, and research has shown that technical assistance, giving it to small businesses, helps them become more effective.  And then the American Rescue Plan, there's a fair amount coming from the federal pipeline for that. Brooklyn Park needs to be active with our state electeds, as well as our federal electeds to make sure that we know how to access that funding, and we're able to get that funding to the small businesses in Brooklyn Park."
"We no longer have a chamber of commerce in the city, and businesses benefit by having a chamber with support at the legislature and in other ways. I recently supported a set aside fund to get something going again in our city."
Public Safety
Hollies Winston: "Early in the process I reached out to (Hennepin County) Sheriff Dave Hutchinson and I said, 'Hey, I want to learn some of the best practices in terms of dealing with this,' from that conversation we were able to get his endorsement because he understood I understand what he's talking about."
"So, everyone says they support the police, but what does that really mean when you say, "I support the police."? Well, for me it means, you're not only keeping the police safe but you're also making- helping them to be as effective as possible at their job."
Lisa Jacobson: "Crime has gone down over the last 10 years and we did that by addressing the issues, looking at root cause, creating afterschool activities, increasing housing stability by investing in apartments, empowering the apartment community by holding opportunities for them to speak and to share during ownership transitions. But no one wants to hear that crime went down, because crime- violent crime is at an all-time high. So yes, investing in law enforcement and community policing, has been something that we have done."
Hard Water
Lisa Jacobson: "So the question is, do our residents want to spend well over $30 million to soften our water and then an additional $5 million annually to remove the sediment. That's half of the city budget. So about 10 years ago, the city did go out to the residents, surveyed and, and used other means to ask the question, did they want the city to spend that kind of money for softer water? And the overwhelming result was no. So, my plan to deal with the hard water is what I've already done. I've asked our city manager to put it on a work session for discussion and then let's make a plan to ask the residents again through surveys and other means if they're willing to invest that kind of money."
Hollies Winston: "It is not the same priority as addressing the rise in violent crime, we've kind of taken our eye off the ball on that recently, and we see what- what's occurring. But I do think when you look at some of the opportunities for the grants, and I also tell people, Brooklyn Park is represented by five state electives, right? So we have a little bit of sway at the capital. And so, I think we need to lean into that sway and say we gotta hard water problem, we're the sixth largest city in the state, why don't we throw our weight around a little bit so that we can get this fixed and there should be some funding or some ways to dissuade some of that cost we're hearing from some of the options."

Born and raised in Kenya's coastal city of Mombasa, Tom is the Founder, Editor-in-Chief and Publisher of Mshale which has been reporting on the news and culture of African immigrants in the United States since 1995. He has a BA in Business from Metro State University and a Public Leadership Credential from Harvard's Kennedy School of Government. He was the original host of Talking Drum, the signature current affairs show on the African Broadcasting Network (ABN-America), which was available nationwide in the United States via the Dish Network satellite service. On the show, he interviewed Nobel laureates such as 2004 Nobel Peace prize winner, Professor Wangari Maathai, the first woman from Africa to win the peace prize and heads of states. Tom has served and chaired various boards including Global Minnesota (formerly Minnesota International Center), the sixth largest World Affairs Council in the United States. He has previously served as the first Black President of the Board of Directors at Books for Africa. He also serves on the boards of New Vision Foundation and the Minnesota Multicultural Media Consortium. He has previously served two terms on the board of the United Nations Association. An avid runner, he retired from running full marathons after turning 50 and now only focuses on training for half marathons.





(1 votes, average: 5.00 out of 5)


Loading...