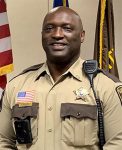 Hiring from among its own residents, Brooklyn Center has selected 25-year law enforcement veteran Kellace McDaniel as the city's next chief of police, according to a news release from the city.
McDaniel succeeds Interim Police Chief Tony Gruenig who has been leading the department since April 2021, when then Chief Tim Gannon resigned following the killing of Daunte Wright by one of its officers, Kim Potter. Potter was convicted of manslaughter on February.
"I'm excited to introduce Kellace McDaniel to the Brooklyn Center community as he has our confidence and support in this important role," said City Manager Dr. Reginald Edwards. "I want to give a heartfelt thank you to the community members, stakeholders and staff who helped us reach this important decision for our community and all of the qualified candidates for their consideration."
Also Read: How Brooklyn Center Mayor Mike Elliott's African upbringing helped him deal with the fallout from police killing of Daunte Wright
Edwards in his statement also thanked Gruening for leading the department "through one, if not its most challenging times."
McDaniel, who has a Bachelor of Arts in Criminal Justice Studies from St. Cloud State University and a minor in Human Relations, currently serves as a lieutenant with the Hennepin County Sheriff's Office where he supervises 57 deputies.  He has also provided security to two presidential inaugurations.
McDaniel is a member of the Federal Bureau of Investigations (FBI) LEEDA (208th) Supervisor Leadership Institute for Law Enforcement Executives.
His first day as police chief will be June 27.

Born and raised in Kenya's coastal city of Mombasa, Tom is the Founder, President and Publisher of Mshale. As the founder, he did a lot of the reporting during the humble beginnings of the newspaper. While he still does the occasional reporting, he now concentrates on the publishing side of the news operation. Tom was also the original host of Talking Drum, the signature current affairs show on the African Broadcasting Network (ABN-America), which was available nationwide in the United States via the Dishnetwork satellite service. On the show, he interviewed Nobel laureates such as 2004 Nobel Peace prize winner, Professor Wangari Maathai, the first woman from Africa to win the peace prize and heads of states such as the president of The Gambia, Yahya Jammeh at State House, Banjul. Tom has served and chaired various boards including Global Minnesota (formerly Minnesota International Center), the sixth largest World Affairs Council in the United States. He has previously served as President of the Board of Directors of Books for Africa, the largest shipper of donated books to Africa. He also serves on the boards of New Vision Foundation and the Minnesota Multicultural Media Consortium. Tom also served two terms on the board of the United Nations Association. He retired from running full marathons after turning 50 and now only focuses on half marathons.





(No Ratings Yet)


Loading...