Monthly Archives: June 2006
Takawira sat quietly talking to me, but after a time began to hammer on his rock, sharp shards flew out, first biting into his weather-worn skin before making their way to sting my arms and hands. "When we first came here last month, what happened was, we were told to choose the stone we want. As I was walking around this (particular stone began) to talk to me and to say, 'Lazarus, can you have me?' The Walker Art Center announced its 2006-2007 performing arts season schedule at a luncheon held in its Skyline Room on June 7th. The aspiring program includes dancers, actors, and musicians worldwide. An interview with Mimi Girma
The body of a missing Somali woman surfaced in the Mississippi River on Monday (5/29), authorities said.
The Togolese community in Minnesota with their invited guests celebrated their 46th independence anniversary at the Center for Families in North Minneapolis on April 27.
It was an evening of jubilation in which Togolese nationals appeared in their colorful traditional regalia, introduced their food to their guests and enjoyed traditional dances that attracted non-Togolese to experience the warm beat of West African music that combined drum beats, Zouk and High Life.
The IRS says you can deduct expenses for taking a business trip or business convention. And there's no reason the trip shouldn't coincide with your vacation.


The lieutenant Governor of the State of Maryland, Honorable Michael S. Steele in April launched the first ever flight operation into West Africa by a United States carrier, namely North American Airlines.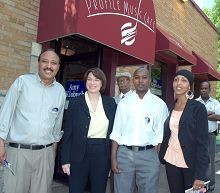 Promises to Restore "Honor and Integrity" to Washington
Amy Klobuchar believes that Americans are tired of the legend of lies from Washington and the policy fiasco on sensitive issues like Energy, Health Care and the Iraq War. She contends that Americans need change and real leadership to protect their core values and bring the interests of the many in front of those of a few.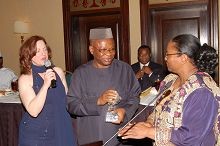 The chairman of the Independent Nigerian Elections Commission, Professor Maurice Iwu, defended the merits of the electronic voting system (EVS) his commission is in the process of implementing in preparation for next year's presidential elections, considered crucial by the international community.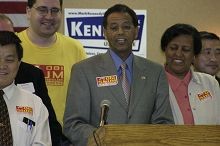 Republicans in Minnesota's Fourth Congressional District made history on May 20 when they endorsed Obi Sium to run for the seat currently held by three-term Democrat Betty McCollum. Recently, Democrats in Minnesota's Fifth Congressional District endorsed Keith Ellison to run for Congress. Like Mr. Sium, Mr. Ellison is Black.
South Africa's Consul General, the Honorable Yusuf Omar, was in the Twin Cities on April 26 as the keynote speaker at this year's Twin Cities International Citizens Awards that is hosted annually by the Minneapolis based International leadership Institute (ILI).