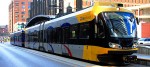 It is years before the Bottineau Transitway can be built from downtown Minneapolis to its northwest suburbs but the county has been in the process of reviewing the impact access to this transportation option will have on the health of residents.
The Bottineau Transitway, a proposed 13-mile light rail line was declared in 2012 by Mshale as the single most impactful transit project on the burgeoning African immigrant community in the northwest suburbs. The northwest suburbs have the single most concentration of African businesses and African immigrant homeowners. As the Central Corridor light rail in Saint Paul was impactful for the big Asian community along the line, Bottineau is also expected to affect the African community in ways they have never experienced before.
The Bottineau HIA is a recently completed draft by county staff that includes information about how the locations of transit stations along the 13-mile proposed light rail line could improve residents' physical activity, access to education, employment and healthy food, as well as traffic safety.
The county in a news release sent to Mshale said it is inviting the public to provide the feedback on the draft online starting now through September 15.
The public can access the assessment at www.hennepin.us/bottineauhia.
After viewing the report, one can fill out the survey on the same website. The county will not respond to individual comments submitted through the survey but "a public comment report will summarize and respond to feedback collected during the public review period and be posted on the project website after the public review period is completed", the news release indicated. Staff will review and compile all comments and make adjustments to the Bottineau HIA as-needed.
For those without internet access, they can access the assessment in person at the following locations:
Brookdale Library, 6125 Shingle Creek Parkway, Brooklyn Center
Brooklyn Park, 8600 Zane Ave. N., Brooklyn Park
Golden Valley, 830 Winnetka Ave. N., Golden Valley
Rockford Road, 6401 42nd Ave. N., Crystal
North Hennepin Community College (Student Life Office, Campus Center Room 116), 7411 85th Ave. N., Brooklyn Park
City Hall in Brooklyn Park, Crystal, Golden Valley and Robbinsdale
Deadline to fill out the survey is September 15, 2013.





(No Ratings Yet)


Loading...