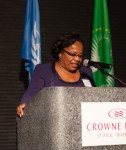 The City of Minneapolis will on Tuesday, October 22 dedicate the refurbished 3rd avenue bridge that goes over I-94 in South Minneapolis and will henceforth be known as "Shar­on Sayles Belton Bridge" in honor of the first black mayor of Minneapolis,  Sharon Sayles Belton.  She was also the first and so far the only female mayor the city has ever had.
An enthusiastic supporter of many causes on the African continent, Sharon Sayles Belton was Mayor of Minneapolis from 1994-2001, serving two terms. Prior to becoming mayor, she was on the City Council representing teh city's 8th Ward for 10 years with the last three years of her tenure as City Council President. She was on the council when Minneapolis was among the active American cities leading the fight against apartheid in South Africa by passing ordinances prohibiting the city from doing business with the apartheid regime.
The bridge is a stone throw away from the recently launched Minnesota African American Museum and it connects the museum to the Minneapolis Convention Center which is also across the street from the bridge.
The City first built the now-iconic bridge in 2000, under Mayor Sayles Belton's leadership. It is designed to reflect the prairie-inspired design principles of Frank Lloyd Wright, the city said in statement.
On Tuesday, a statement from Mayor RT Rybak's office said the event will include a live performance by Larry Long, Robert Robinson, JD Steele, and Tonia Hughes. JD Steele of teh Steele family is also active with the Shangilia Youth Choir of Nairobi where he has been working with disadvanatged youth.
As part of the dedciation, a sculp­ture will be ceremonially lit on the plaza at the north end of the bridge. The bridge's renovation in­cludes restoration of the colored side­walk, main­te­nance of the bridge fa­cade and rail­ing, and an upgrad­ing of fixtures to energyeffi­cient LED lights.
Sayles Belton was "a champion of the arts and urban vitality", according to the city and that during her tenure, Minneapolis renovated the historic theaters on Hennepin Avenue, "creating a regional venue for national theatrical and musical productions. She also spearheaded efforts to reconnect the city to the Mississippi River by revitalizing the blighted central riverfront and transforming it into a thriving area for housing, entertainment, recreation and culture."
Excerpts on the back wall of the plaza include some of Sharon Sayles Belton "inspiring and thought-provoking words that remain relevant and will continue to guide us", the city said in its glowing statement of her accomplishments.
Sharon Sayles Belton is currently vice president of government affairs at Thomson Reuters.
Dedication of Sharon Sayles Belton Bridge
7 p.m. Tuesday, Oct. 22, 2013
3rd Ave. South and 16th Street East
Free and open to the public.





(No Ratings Yet)


Loading...