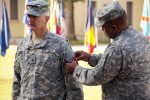 An Apple Valley Minnesota resident, Brigadier General Jon Jensen, has taken over an additional role as the Deputy Commanding General for U.S. Army Africa. Jensen is the Director of the Joint Staff for the Minnesota National Guard and will continue in that role in addition to his new responsibilities at U.S. Army Africa.
U.S. Army Africa, also known as the Ninth U.S. Army is based in Vicenza, Italy. It states as its mission as "employ(ing)  Army forces as partners, builds sustainable capacity, and supports the joint force in order to disrupt transnational threats and promote regional stability in Africa," and its vision as "a trusted and respected partner, achieving long-term strategic effects in Africa."
Some of the publicly available information on activities that U.S. Army Africa has been involved in include In July 1994 when it deployed to Entebbe, Uganda as the core staff of Joint Task Force Support Hope. According to records available, a total of 2,100 U. S. military personnel, including SETAF's 3rd Battalion (Airborne), 325th Infantry Regiment, deployed to the region in what  Pentagon records describe as "help(ing) prevent a humanitarian crisis resulting from large-scale refugee movements caused by the civil war in Rwanda."
On July 25, 2003, it led the US military mission in Liberia to help prevent an impending humanitarian disaster.
In 2008 U.S. Army Africa officially assumed duties as the Army component headquarters for the controversial U.S. Africa Command commonly, known as AfriCom.
A release from the Minnesota National Guard said Jensen will help advance U.S. strategic efforts and partnerships in Africa. He will split his time between his duties at the Minnesota National Guard and U.S. Army Africa headquarters in Italy. He holds a Bachelor of Science in finance/business economics from Northwest Missouri State University, a Master of Military Arts and Sciences from the Command and General Staff College and a Master of Strategic Studies from the United States Army War College. Jensen has previously deployed in support of Operation Desert Spring, Operation Joint Forge and Operation Iraqi Freedom. He earned his commission in 1989 from the U.S. Army Officer Candidate School at Fort Benning, Georgia. He served in a variety of positions in both the Minnesota and Iowa National Guard throughout his career, including as commander of the 1st Armored Brigade Combat Team.
In a statement, Jensen said "I am honored to be a part of this joint force and participate in the U.S. Army Africa and the Southern European Task Force tradition of partnering with other nations to achieve stability. About one in five immigrants in Minnesota is African, and I am especially looking forward to making meaningful local connections that will help U.S. Army Africa continue to assist our military and civilian partners throughout the continent."
The National Guard was one of the main sponsors of the 5th African Awards Gala presented by Mshale held earlier this month.

Born and raised in Kenya's coastal city of Mombasa, Tom is the Founder, Editor-in-Chief and Publisher of Mshale which has been reporting on the news and culture of African immigrants in the United States since 1995. He has a BA in Business from Metro State University and a Public Leadership Credential from Harvard's Kennedy School of Government. He was the original host of Talking Drum, the signature current affairs show on the African Broadcasting Network (ABN-America), which was available nationwide in the United States via the Dish Network satellite service. On the show, he interviewed Nobel laureates such as 2004 Nobel Peace prize winner, Professor Wangari Maathai, the first woman from Africa to win the peace prize and heads of states. Tom has served and chaired various boards including Global Minnesota (formerly Minnesota International Center), the sixth largest World Affairs Council in the United States. He has previously served as the first Black President of the Board of Directors at Books for Africa. He also serves on the boards of New Vision Foundation and the Minnesota Multicultural Media Consortium. He has previously served two terms on the board of the United Nations Association. An avid runner, he retired from running full marathons after turning 50 and now only focuses on training for half marathons.





(No Ratings Yet)


Loading...