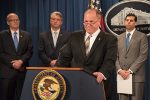 President Trump has nominated the man who last month pledged to quadruple workplace immigration crackdowns to be the permanent director of Immigration and Customs Enforcement. The White House announced on Tuesday that Trump has appointed Thomas D. Homan to the position. He has been the acting director since president Obama left office.
His appointment is subject to Senate approval.
During a speech last month at the conservative Heritage Foundation think tank, Homan pledged to increase workplace enforcement of immigration laws. He said he has instructed Homeland Security Investigations (HSI), the investigative unit of ICE, to look into potentially quintupling worksite enforcement actions next year.
"We've already increased the number of inspections in work site operations, you will see that significantly increase this next fiscal year," he said.
"Not only are we going to prosecute the employers that hire illegal workers, we're going to detain and remove the illegal alien workers," Homan said at Heritage.
The White House's announcement of Homan's appointment came about a day after a blistering letter criticizing Homan by the Union that represents ICE workers. Chris Crane, president of the National Immigration and Customs Enforcement Council, accused Homan of mismanagement.
In the latter to Trump that the union chose to make public it said among others "While you recently stated publicly that you were "not happy" with the $400k in private jet usage by your former HHS Secretary Tom Price leading either to his firing or resignation, ICE's Acting Director Thomas Homan is spending millions every year to provide free vehicles and gas to hundreds of ICE manager for the sole purpose of driving between home and work each day. Where do they get these vehicles? They take them away from their own officers and law enforcement operations in the filed leaving officers with insufficient equipment to perform the Agency's mission."
Trump was the first presidential candidate to ever be endorsed by the Union largely due to Trump's promise to bolster enforcement operations.
In Homan's 10 months in office in acting capacity, more than half of the increase in arrests have been of undocumented immigrants who had committed no crime other than illegally residing in the United States. Immigration experts predict that if the arrests continue at the current rate, they will surpass the highest annual numbers reached under President Obama in Donald Trump's first year in office.
Homan is known as a hardliner when it comes to immigration enforcement. In July he suggested that mayors of "sanctuary cities" be charged with violating immigration laws because of their practice of shielding immigrants from federal immigration officials.
In June while giving testimony before the House Appropriations Committee he said "If you're in this country illegally and you committed a crime by being in this country, you should be uncomfortable, you should look over your shoulder. You need to be worried."

Born and raised in Kenya's coastal city of Mombasa, Tom is the Founder, Editor-in-Chief and Publisher of Mshale which has been reporting on the news and culture of African immigrants in the United States since 1995. He has a BA in Business from Metro State University and a Public Leadership Credential from Harvard's Kennedy School of Government. He was the original host of Talking Drum, the signature current affairs show on the African Broadcasting Network (ABN-America), which was available nationwide in the United States via the Dish Network satellite service. On the show, he interviewed Nobel laureates such as 2004 Nobel Peace prize winner, Professor Wangari Maathai, the first woman from Africa to win the peace prize and heads of states. Tom has served and chaired various boards including Global Minnesota (formerly Minnesota International Center), the sixth largest World Affairs Council in the United States. He has previously served as the first Black President of the Board of Directors at Books for Africa. He also serves on the boards of New Vision Foundation and the Minnesota Multicultural Media Consortium. He has previously served two terms on the board of the United Nations Association. An avid runner, he retired from running full marathons after turning 50 and now only focuses on training for half marathons.





(No Ratings Yet)


Loading...