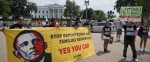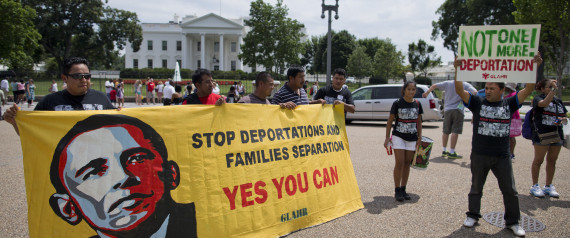 Immigrant rights advocates are urging President Barack Obama to use his executive authority to stop the deportations of illegal immigrants. Some arrests were made Monday when dozens of advocates rallied in Washington.
Religious and civil rights activists chanted and prayed alongside illegal immigrants near the White House as they urged the president to stop the deportations, which they say are tearing families apart.
Methodist Bishop Julius Trimble said he wants comprehensive, humane immigration reform that provides a pathway to citizenship.
"A majority of people who are detained and deported have no criminal record or have done no crime," he said. "They are just here because they don't have documentation and we don't have a pathway for dealing with those persons who are our neighbors or parts of our churches and who have businesses in our communities."
One of those undocumented immigrants is Gerardo Torres. He's from Mexico, but he said he has lived in [the U.S. state of] Arizona for more than 20 years.
"I want to have the freedom to go to my country and visit my family and just the freedom of movement," he said. "That's all I want."
Police moved in and arrested some of the demonstrators after they edged closer to the White House.
Jessica Vaughan is director of policy studies at the Center for Immigration Studies. The group believes the law should be changed to meet U.S. economic needs — not to satisfy the demands of those who have entered the country illegally or overstayed visas.
She said it would be wrong for Obama to stop the deportation of undocumented immigrants.
"Not only would it be a bad political move, it would be a horrible thing for public safety, national security, and immigration law enforcement in general for him to do that. Enforcement is already about as bare-bones as it gets," she said.
More than 1.9 million undocumented immigrants have been deported since Obama took office in 2009. The rate of deportations under his administration is outpacing that of his predecessor, President George W. Bush.
During a November speech in San Francisco, the president heard first-hand from immigration reform advocates who are unhappy with his policy.
Obama said he needs to rely on Congress.
"If in fact I could solve all these problems without passing laws in Congress, then I would do so," he said. "But we are also a nation of laws. That is part of our tradition."
The Senate passed immigration reform last year, but the legislation has stalled in the House.
House Speaker John Boehner has said he is pessimistic about immigration reform passing this year.





(No Ratings Yet)


Loading...