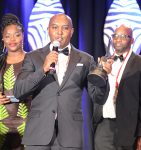 Abdirahman Kahin, whose Afro Deli business won Business of the Year at last month's African Awards Gala is among those selected by Minnesota Governor-elect Tim Walz to serve on his transition board that will "provide counsel and advice."
According to the governor-elect, in a statement sent to Mshale, the board will help him fill important roles in his new administration, shape the state's budget priorities for the next year, and provide diverse knowledge and experiences in facing Minnesota's biggest challenges.
Kahin, a native of Djibouti, is also joined on the board by another prominent Africa-born person, Jaylani Hussein, a native of Somalia. Hussein leads the Minnesota chapter of the Council on American-Islamic Relations (CAIR).
The 30-person board is led by the lieutenant governor-elect Penny Flanagan and consists of a cross-section of Minnesotans. Flanagan made history during the midterms by being the first Native American woman elected to statewide office in Minnesota.
"I am excited to announce an outstanding group of people to serve on the One Minnesota Transition Advisory Board," said Flanagan. "From civil rights advocates to business owners to tribal leaders to Greater Minnesota mayors, our team worked intentionally to bring together a diverse group of people to share their expertise as we lay the groundwork for our administration. Together, we will cast a wide net across the state to ensure we truly run state government as One Minnesota."
"Made up of people from all different backgrounds, this advisory board is One Minnesota in action," said Walz. "We believe all those affected by policy should have a seat at the table, and this is our very first time pulling out the chairs. We thank these passionate Minnesotans for lending their time and talents to the people of our great state."
One of the main objectives for the board will be to identify individuals to fill 22 agency commissioner positions. The commissioners are in charge of leading the various state agencies.  Those interested will need to submit their applications by December 7. The Walz administration will take office on January 7.
Additionally, the board will also give guidance on budget and policy priorities. The new Walz administration plans to unveil a $50 billion two-year budget when it takes office.
The appointment of Kahin and Hussein to the board is acknowledgment of the growing political and business influence of the African immigrant community, especially those from Somalia. During the November midterms, the Somali community doubled their number at the Minnesota House of Representatives from one to two. Mohamud Noor easily won the seat formerly occupied by Ilhan Omar to keep that seat within the community, while Hodan Hassan prevailed at House District 62A. Ilhan Omar moved on to even bigger things by becoming the first Africa-born black to be elected to the US Congress when she won Minnesota's Fifth Congressional District.
Here is the full board of the advisory board announced by governor-elect Walz:
Abdirahman Kahin, owner of Afro Deli
Armando Camacho, President and CEO of Opportunity Partners
Ben Schierer, Mayor of Fergus Falls
Bharti Wahi, Executive Director of the Children's Defense Fund-MN
Bo-Thao Urabe, Executive and Network Director at the Council on Asian American Leaders
Carl Crawford, Human Rights Officer at the City of Duluth
Carly Melin, Executive Director of the Minnesota State Building and Construction Trades Council and former State Representative
Chief Executive Melanie Benjamin, Mille Lacs Band of Ojibwe
Dave Durenberger, former U.S. Senator
David Nicholson, Executive Director at the Headwaters Foundation for Justice
Denise Specht, President of Education Minnesota
Eric Sannerud, CEO of Mighty Axe Hops
Harold Wolle, past President and current Board member of the Minnesota Corn Growers Association
Javier Morrillo, President of SEIU Local 26
Jaylani Hussein, Executive Director of CAIR-MN
Jeff Ettinger, Chairman of the Hormel Foundation
Kathleen Annette, M.D., President and CEO of the Blandin Foundation
Marcia Zimmerman, Senior Rabbi at Temple Israel
Marvin Roger Anderson, CEO of  Rondo Commemorative Plaza and Chair of Reconnect Rondo
Michelle Behr, Chancellor of the University of Minnesota Morris
Paul Austin, Executive Director of Conservation Minnesota
President Shelley Buck, Prairie Island Indian Community
Rassoul Dastmozd, President/CEO of Saint Paul College
Senta Leff, Executive Director of the Minnesota Coalition for the Homeless
Stella Whitney-West, CEO of North Point Health & Wellness Center
Tawanna Black, CEO of the Center for Economic Inclusion
Tim Mackey, President of the Laborers District Council
Tom McLaughlin, former Legislative Chairman for the Minnesota Veterans of Foreign Wars, a retired Blue Earth County Commissioner, and Marine Combat veteran
Tony Sertich, President of the Northland Foundation

Born and raised in Kenya's coastal city of Mombasa, Tom is the Founder, Editor-in-Chief and Publisher of Mshale which has been reporting on the news and culture of African immigrants in the United States since 1995. He has a BA in Business from Metro State University and a Public Leadership Credential from Harvard's Kennedy School of Government. He was the original host of Talking Drum, the signature current affairs show on the African Broadcasting Network (ABN-America), which was available nationwide in the United States via the Dish Network satellite service. On the show, he interviewed Nobel laureates such as 2004 Nobel Peace prize winner, Professor Wangari Maathai, the first woman from Africa to win the peace prize and heads of states. Tom has served and chaired various boards including Global Minnesota (formerly Minnesota International Center), the sixth largest World Affairs Council in the United States. He has previously served as the first Black President of the Board of Directors at Books for Africa. He also serves on the boards of New Vision Foundation and the Minnesota Multicultural Media Consortium. He has previously served two terms on the board of the United Nations Association. An avid runner, he retired from running full marathons after turning 50 and now only focuses on training for half marathons.





(No Ratings Yet)


Loading...