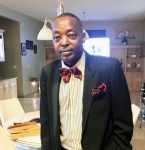 Erastus Ondieki Onchwari, who died February 25 at the age of 58, is being remembered as an entrepreneur, community activist, dreamer and a leader by his many friends and family who knew him best. His death was confirmed by his brother Joshua Onchwari.
He was last active on social media on February 24, a day before his death, when he shared a memory on Facebook from a posting in 2013 on his timeline that read: "A man can plan his ways but it is God that establishes his steps."
Onchwari graduated with his Master of Science in Economics from the University of North Texas while retaining an uncanny ability to break down complex economic theories to others in an easily accessible manner. Born in Kisii County in Kenya, he traveled to Texas in 1985 to attend college, earning both his bachelors and masters. He later moved to Minnesota where he had success in business and community organizing.
As many friends can attest, Onchwari enjoyed being an active part of the community and served in many capacities, including as an administrator of the rapidly growing Gusii Community Network (GUCONET), a group dedicated to uplifting the economic wellbeing of the Abagusii diaspora. He was also a recipient of many accolades for his many efforts made on behalf of the community. It is instructive for example that his 1992 masters thesis was entitled The Realities of the Informal Sector in Kenya and Its Economic Implications.
Pius Raini, co-owner of Time Motor Sales in Minneapolis and a prominent member of the Kenyan-American business community in Minnesota, recalled meeting Onchwari almost 20 years ago.
"He was so full of business ideas and how business could be used to make the community better," he said. "His passion was really what struck me about the guy. One of the first businesses he started was car towing after he moved to Minnesota from Texas, and I tell you I have never seen someone so passionate about car towing. He was always looking further (down the road) than the rest of us, and we ended up being business partners along the way.'
"Erastus' energy and ability to think big really inspired those of us in business, I think that Masters in Economics of his gave him some edge. On a personal note, I will miss his positivity, his energy and just as a friend. Our (business) community owes him a debt of gratitude and I am a better person for having known him."
In his role as an entrepreneur, Onchwari sought to elevate the level of service offered by the businesses he was involved in. After starting his towing business, he followed that with an auto shop, a sprawling full-service shop that quickly became a go to place in Brooklyn Park. Always looking out for the next big thing, he handed over the business to his now grown daughter Judith who took it to the next level of service. Onchwari then moved into network marketing, specifically ACN, a multi-level marketing company finding particular success with the telecommunication side of that enterprise.
Global Health Services Inc. executive director Henry Momanyi was another person who became impressed with Onchwari and his energetic attempts to make Kenyan-Americans in Minnesota and the Americas an economic force to reckon with. Momanyi, who volunteers as the communications director and community organizer for Mwanyagetinge, has had a front-row seat for much of Onchwari's work in improving the economic wellbeing of Kenyans in Minnesota. Momanyi says Onchwari, being a visionary, would be frustrated at times by the slow pace the community grabbed on to opportunities presented to it. He would know as he would talk to him daily "I will miss our conversations," said Momanyi.
"Men especially used to frustrate Erastus and he would say it is only the women that seemed to get it. The man was always ahead of his time," said Momanyi.
Dr. Nyariki Otoyota, adjunct professor at Metropolitan University's College of Management, remembered the impact Onchwari's dream of advancing the well-being of Kenyan-Americans had on the community.
"Besides the other businesses that he was involved in, he brought special energy to Guconet" Dr. Otoyota said. "The man was for the people. We started Guconet Holdings (a social enterprise) and he was in charge of commercial services, entrepreneurship and he was the managing director for the LLC that Guconet started. The guy was thinking big.'
"He did not want our people to suffer, he used to wonder why our people who are highly educated in this country should continue to suffer," Otoyota said. "So we owe this man a lot. The kind of energy he brought to what he did is very rare in our community, as some people who make it get comfortable but not Erastus, he will not rest until everyone and not just his family was prospering."
Dr. Pamela Obare Mogaka of Detroit recalled Onchwari's incessant encouragement to get her to do better and the support he would give to her as the founder of the Diaspora Entertainment Awards & Recognition.
"Erastus was a very good friend of mine for over 18 years. I met him in Minnesota while I lived there for two years. A man with a very good heart, always advising others and I don't remember a day he was mad at someone. Him and a group of us started a company and he brought some serious game that really brought us far," said Dr. Mogaka.
The late Onchwari is survived by his wife of two decades Damaris and his two children Judith and Michael and grandchildren Michael Junior, Anthony, and Destany. Mother Jeliah Nyaera Onchwari. His siblings Joshua Onchwari, Gideon Onchwari, Hezron Onchwari, Stephen Onchwari, Gladys Onchwari. He was preceded in death by his father, Micah Onchwari and sister, Jane Onchwari. He is also survived by his fiancée, Dorothy Mckaney-Scott.
Funeral arrangements are pending. A memorial service and fundraiser to assist with the funeral will be held on Sunday, March 10, 2019 at 4:00PM.
Donations are being accepted in advance of the memorial via $CashApp: $OnchwariErastus
Erastus Onchwari Memorial Service and Fundraiser
Date: Sunday, March 10, 2019 @ 4:00 PM
Venue: 7377 Noble Ave.N., Brooklyn Park, MN 55443

Born and raised in Kenya's coastal city of Mombasa, Tom is the Founder, Editor-in-Chief and Publisher of Mshale which has been reporting on the news and culture of African immigrants in the United States since 1995. He has a BA in Business from Metro State University and a Public Leadership Credential from Harvard's Kennedy School of Government. He was the original host of Talking Drum, the signature current affairs show on the African Broadcasting Network (ABN-America), which was available nationwide in the United States via the Dish Network satellite service. On the show, he interviewed Nobel laureates such as 2004 Nobel Peace prize winner, Professor Wangari Maathai, the first woman from Africa to win the peace prize and heads of states. Tom has served and chaired various boards including Global Minnesota (formerly Minnesota International Center), the sixth largest World Affairs Council in the United States. He has previously served as the first Black President of the Board of Directors at Books for Africa. He also serves on the boards of New Vision Foundation and the Minnesota Multicultural Media Consortium. He has previously served two terms on the board of the United Nations Association. An avid runner, he retired from running full marathons after turning 50 and now only focuses on training for half marathons.





(4 votes, average: 4.00 out of 5)


Loading...