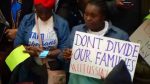 Liberians who have been living in limbo under the Deferred Enforced Departure (DED) were on Tuesday given an early Christmas gift of a pathway to citizenship when the U.S. Senate, in a near unanimous 86-6 vote, passed the National Defense Authorization Act where the provision for the pathway to citizenship had been tucked.
DED for Liberians which was first approved in 2007 and has been extended multiple times since then, was set to expire in March 2020 after Trump had extended it last year to wind down the program. All indications were that President Trump will for sure end it all given his reputation as the most anti-immigrant president. He is however expected to sign the National Defense Authorization Act which has been sent to him.
"We don't have adequate words to describe the relief, the joy and celebration that it brings to our community," Rev. Francis Tabla of Ebenezer Community Church told the Star Tribune.
Liberians have Sen. Jack Reed of Rhode Island to thank for adding the pathway to citizenship into the $768 billion National Defense Authorization Act.
It is estimated about 4,000 Liberians will benefit.

Born and raised in Kenya's coastal city of Mombasa, Tom is the Founder, Editor-in-Chief and Publisher of Mshale which has been reporting on the news and culture of African immigrants in the United States since 1995. He has a BA in Business from Metro State University and a Public Leadership Credential from Harvard's Kennedy School of Government. He was the original host of Talking Drum, the signature current affairs show on the African Broadcasting Network (ABN-America), which was available nationwide in the United States via the Dish Network satellite service. On the show, he interviewed Nobel laureates such as 2004 Nobel Peace prize winner, Professor Wangari Maathai, the first woman from Africa to win the peace prize and heads of states. Tom has served and chaired various boards including Global Minnesota (formerly Minnesota International Center), the sixth largest World Affairs Council in the United States. He has previously served as the first Black President of the Board of Directors at Books for Africa. He also serves on the boards of New Vision Foundation and the Minnesota Multicultural Media Consortium. He has previously served two terms on the board of the United Nations Association. An avid runner, he retired from running full marathons after turning 50 and now only focuses on training for half marathons.





(No Ratings Yet)


Loading...