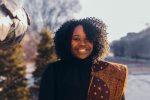 Jael Kerandi is only 21 years old, but she has made the kind of impact that takes many social justice advocates decades to achieve.
When she saw the video of a Minneapolis police officer killing an unarmed, handcuffed black man named George Floyd by kneeling on his neck for nearly nine minutes, she sprang to action. On May 26, the day after officer Derek Chauvin's actions led to Floyd's death, Kerandi, who is the president of the University of Minnesota's Student Body, immediately wrote a strongly-worded letter to Joan Gabel, the university's president, demanding an immediate end to the institution's relationship with Minneapolis Police.
"Black people have been killed by the Minneapolis Police Department at 13.2x the rate of white people." Kerandi wrote. "It is disgusting and it is unacceptable."
In the letter, outlined Minneapolis's history of police brutality against black people, going as far back as 1967, as evidence that not much has changed. She added that the murder of Floyd had left students unwilling to continue engaging in discussions between minority communities and police, which she described as mere "donut hours" that make empty promises.
"Therefore we clearly and without hesitation DEMAND that the University of Minnesota Police Department ceases any partnerships with the Minneapolis Police Department immediately," she demanded. "As a land-grant institution, statements professing appreciation of diversity and inclusion are empty and worthless if they are not backed up by action. A man was murdered. It is our job as an institution to exert whatever pressure we can to keep our students safe and demand justice in our city and state."
Kerandi gave the university administrators a 24-hours deadline to respond to the student body's demands.
"It was so important that while this was happening that we said something," Kerandi told Mshale during a recent interview. "Thankfully we got the letter in less than 24 hours."
The response from the Office of the President came in form of a statement proclaiming that the university will no longer be contracting with the Minneapolis Police Department for support services. The university's swift action became the earliest major policy change in the country in response to Floyd's murder. It garnered national attention, and soon Kerandi's name was in several news media.
Kerandi's actions and President Gable's response sent a ripple effect across various organizations around the Twin Cities. Shortly after the university's decision, the Minneapolis board of education, which administers the city's public schools, voted to terminate contracts with the police department, ending a decades-long relationship that began in 1967. School district data from the years 2018 and 2019 show the police had more encounters with black students in comparison to their white counterparts.
Local museums as well as the Minneapolis Park and Recreation Board also chose to sever ties with the department. Ultimately, Minneapolis City Council unanimously voted to entirely disband the police department and rebuild it. Although the city council does not have the full power to completely dismantle the police force without voter consent, it voted on June 12 to begin a year-long police reform project that includes the active participation of community stakeholders.
So far, this has been Kerandi's greatest achievement in her quest for social justice. Although she is only 21, her interest in social justice began a long time ago. Her passion for advocating for change can be traced back to her childhood. She spent her years in grade school participating in student clubs and groups. Even before she began her undergraduate studies, she emailed student government at the University of Minnesota to gain insight into the opportunities that were available to her to serve and advocate for other students.
"I think God put me in a position where I wanted to lead," she said.
A senior at the Carlson School of Management, Kerandi was elected as Vice President of the Minnesota Student Association in the spring of 2019. At the beginning of this year, she transitioned into the role of president after running mate, Mina Kian, resigned from the position.
"I wanted to create a university that would support students that look like me," Kerandi said.
Although her tenure as student body president was unexpected, Kerandi did not waste time. Her government went straight to work and had already made significant achievements before the murder of Floyd took center stage. For example, after the university made the decision to transition to online classes in response to the coronavirus pandemic, the student government successfully advocated to obtain refunds on expenses students had paid for but weren't going to use since they were no longer on campus. Kerandi was also able to work with Vice President and Provost Rachel Croson to have the university temporarily change its pass/fail policy to accommodate students during the stressful and unpredictable times of the pandemic. Students were able to change their grading scales after final letter grades had been awarded.
Kerandi attributes her passion for advocacy to her upbringing.
"My [parent's] mission has always been to give and care about other people," she said.
Kerandi learned her leadership skills from her parents, Dr. Henry Kerandi, family physician, and Grace Kerandi, a philanthropist, and her older siblings.
"I grew up in an African household" she said.
The family moved to the United States from Kenya when Kerandi was 18 months old.
"My parents instilled morals and values in my siblings and I that I will hold true for the rest of my life" she said. She is the youngest of four, and her older siblings are equally as invested in creating the change they want to see in the world.
"Our approach to [serving] as siblings has taken different roles," said her sister, Linda, a third-year medical student on the east coast.
Equally as devoted to medicine is the oldest sibling, her brother, Allan, who is a resident physician. Kerandi's other sister Gloria graduated from the University of Minnesota with a science degree and plans on pursuing a healthcare career in dentistry.
"They believe in this work the same way I do" Jael Kerandi said.
Kerandi will be completing her term as student body president on June 30, after which she will begin her term as a student representative to the board of regents. She said she will be bringing her years of experience in student government, her position as student body president and advocacy work to the position.
"Students are looking for an advocate that can speak [for them]," said Mike Kenyanya, a member of the board of regents, who previously served as a student representative to the board as an undergraduate student. "That's Ms. Kerandi."
In her new role, Kerandi will be one of eight student representatives who are responsible for advocating for student interests before the board of regents. The student representatives act on behalf of the University of Minnesota's entire student population of more than 60,000 undergraduate and professional students in five different campuses. Student representatives do not have any voting powers, but their position allows them to attend regent meetings and advocate on behalf of the student body.
Kerandi is double majoring in Finance and Marketing with minors in leadership, and business law. She's currently completing an internship at Microsoft's finance department and hopes to have a career in the field of technology after graduating.
To incoming students at institutions of higher educational, Kerandi had some advice.
"Be ready to challenge yourself. Be ready to push yourself. Be ready to find yourself in a new comfort zone" she said.
She also advises students to utilize their resources and to navigate ways they can leave a positive impact.
"You're here to get an education, but you're also here to become a better member of society."
Cynthia is a graduate of the University of Minnesota School of Journalism. She has interned at Mshale and Voice of America and previously worked at the Minnesota Daily. She recently returned from Seoul, South Korea where she was an English educator.





(4 votes, average: 5.00 out of 5)


Loading...