Hollies Winston and Lisa Jacobson have advanced in the special primary election to elect a new mayor for Brooklyn Park. Seven candidates competed in Tuesday's election.
The two will now square off in the August 10 special election for mayor.
10.9 percent of the city's 47,585 registered voters took part in the special primary election.
The results as announced by Devin Montero, the city clerk, are as follows:
| | |
| --- | --- |
| Lisa Jacobson | 1291 |
| Yelena S. Kurdyumova | 26 |
| Mark Mata | 817 |
| Boyd Morson | 348 |
| Benjamin Osemenam | 196 |
| Wynfred Russell | 291 |
| Hollies Winston | 1854 |
Also Read: 5 takeaways from the Brooklyn Park special primary election results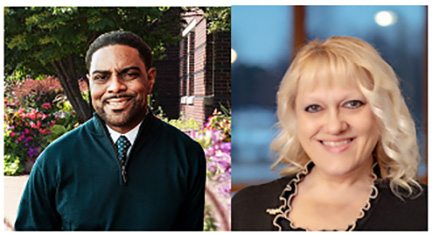 Hollies Winston and Lisa Jacobson came in first and second respectively in the April 13, 2021 special election for Mayor of Brooklyn Park. They advance to the August 10, 2021 special election.Both Winston and Jacobson have thanked supporters for their victories and said they look forward to the August 10 special election.
Jacobson who is a current member of the Brooklyn Park City Council said in an email message to Mshale "I am grateful for the trust placed in me to move onto the general election on August 10th. As a current city council member and a dedicated volunteer for over 30 years, I work hard each and every day to make Brooklyn Park a city that leads by example."
In a Facebook post, Winston said "I want to extend a heartfelt thanks to all our voters, team, supporters and my family. This success is all of ours, and I am so excited for what we can accomplish over the next 5 months. Onward to August!"
This story has been updated to include reactions from the two top candidates.

Tom is the President and Publisher of Mshale and chair of the Minnesota Multicultural Media Consortium (MMMC). As Mshale founder, he did a lot of the reporting during the humble beginnings of the newspaper. While he still does the occasional reporting, he now concentrates on the publishing side of the news operation.Tom was also the original host of Talking Drum, the signature current affairs show on the African Broadcasting Network (ABN-America), which was available nationwide in the United States via the DishNetwork satellite service. On the show, he interviewed Nobel laureates such as 2004 Nobel Peace prize winner, Professor Wangari Maathai, the first woman from Africa to win the peace prize and heads of states such as the president of  The Gambia, Yahya Jammeh at State House, Banjul. Tom has previously served in the board of directors of Global Minnesota, the sixth largest World Affairs Council in the United States. He has also previously served as President of the Board of Directors of Books for Africa, the largest shipper of donated books to Africa and. He sits on the board of the United Nations Association.





(1 votes, average: 5.00 out of 5)


Loading...