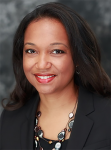 Dr. Brooke Cunningham, a general internist, sociologist, and assistant professor in the Department of Family Medicine and Community Health at the University of Minnesota, has been named to lead a new Health Equity Bureau housed within the Minnesota Department of Health.
MDH made the announcement in a Tuesday press release that said the new bureau will also house Center for Health Equity, the new Office of American Indian Health, proactive Diversity, Equity and Inclusion efforts.
During the pandemic the state health department has increased its focus on the disproportionate impact Covid-19 has had on people of color. On Tuesday it said the new bureau will lead the department's equity work.
Dr. Cunningham practices internal medicine at the Community-University Health Care Clinic (CUHCC), a federally qualified health clinic that serves a diverse patient population, including many low-income families. As an educator, she teaches about race as a social construct and the mechanisms through which racism affects health.
In her research work, Dr. Cunningham has examined factors at both the provider and organizational levels that impede or facilitate efforts to address health equity. In 2019, she received a National Institutes of Health Career Development Award for a project that aims to improve white physicians' ability to knowledgeably, safely, and effectively communicate about racism with Black patients.
Since fall of 2020, she has co-directed the University of Minnesota Medical School's Diversity, Equity, and Inclusion (DEI) Thread, which aims to prepare future physicians to advance health equity and antiracist clinical practice.
"The pandemic continues to demonstrate with shocking clarity the systemic issues underlying Minnesota's health inequities as well as the troubling health conditions and outcomes magnified by those inequities," Minnesota Commissioner of Health Jan Malcolm said. "The creation of this new bureau builds on what we have learned during the COVID-19 pandemic and reflects our deepening commitment to health equity in all aspects of public health."
Dr. Brooke will be joining the department as an assistant commissioner and her start date will be March 2.





(1 votes, average: 5.00 out of 5)


Loading...