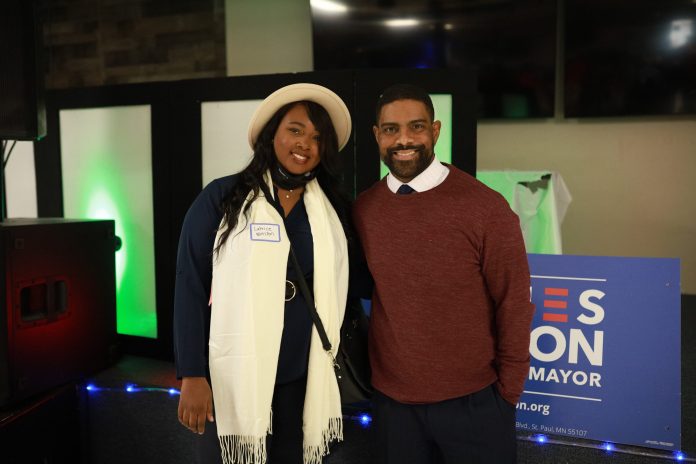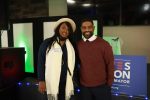 In the last elections, Hollies Winston came so close to becoming the mayor of Brooklyn Park. This year, he says he is determined to make sure that when the votes are counted, he will be the occupant of the city's top seat.
"I am running because we need someone who will make sure our diversity is represented and reflected in decision making," Winston said. "The people of Brooklyn Park deserve to have their needs met and voices heard."
Winston was speaking at Oro Lounge Bar and Restaurant in the suburban Minneapolis city, where his supporters gathered recently to raise funds for his campaign. Incumbent Mayor Lisa Jacobson, who defeated him by only two votes in a hotly contested fight in 2021, has not announced whether she will be seeking reelection. This time around, Winston said he's confident.
Brooklyn Park is a minority-majority city, and is one of the most diverse cities in Minnesota, second only to neighboring Brooklyn Center. About 55% of its residents are people of color, according to 2020 U.S. Census data. People who identify themselves as Black or African American account for 29.1% of the population, making them the single largest minority group. However, that diversity is not reflected in the city's government and institutions. If elected, Winston, who is African American, would be the first Black mayor in the city's history.
"We need a leader that will promote unity, so that we may become one family moving toward prosperity," Winston said.
Winston also said that Brooklyn Park is home to some of the hardest working people he has ever met, and he expressed appreciation for how the residents have bettered their own community.
"We have our East African community that's been building businesses, our West African community that's shown determination, and our African American community that has historically pushed for equity in various institutions," he said.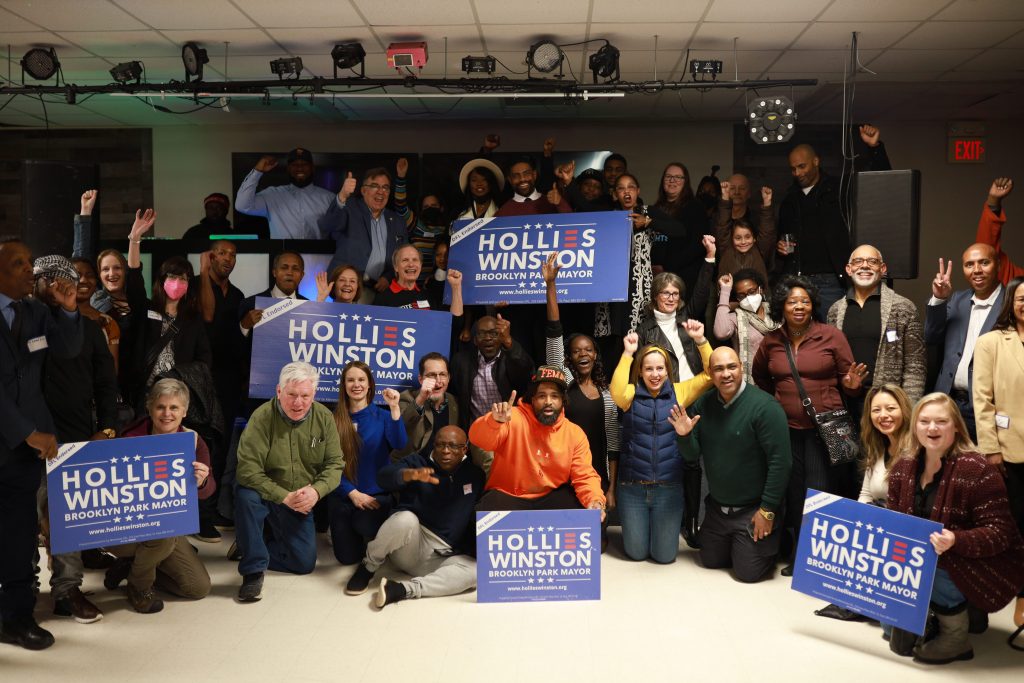 Kristy Janigo, who is also a candidate for the 2022 Maple Grove City Council, said that Winston represents the change that is needed regionally. She talked about historic election trends that have been taking place in suburbs like Brooklyn Park and why Winston would be the ideal flagbearer.
"Hollies has been and will be that voice," Janigo said. "I've seen his commitment firsthand. He shows up and supports the diversity, equity and inclusion grassroots events we hold in Maple Grove."
Janigo said that most suburban areas lack progressive, forward-thinking leaders that celebrate diversity and bring people together. A "voice for all people" is needed, even in ethnically rich places such as Brooklyn Park.
Xiongpao "Xp" Lee, the policy and special programs manager for the Minnesota Council on Foundations and who recently joined the Brooklyn Park City Council, said that he supports Winston because of his commitment to equity and inclusion. He also emphasized the importance of supporting good candidates.
"It's so important that we put our money where our mouth is," Lee said. "We need to donate and go door knocking. Our voices matter and it's up to us to put leaders in office who will give us the change that we need."
Isaac Russell, the director of public policy at the Center for Economic Inclusion, spoke about his relationship with Winston. The two met at a Senate District meeting. Winston approached Russell to be a part of the African American DFL Caucus. He said that his experience working alongside Winston opened his eyes to the born leader that he is.
Russel described Winston as effective, intelligent, and community oriented. He believes that these are qualities necessary to produce substantive differences.
"Hollies is truly dedicated to community service," Russell said. "He's not in this for the status. His desire to better the livelihoods of the people of this city permeates everything that he does," Russel said.
Hollies Winston previously served as a commissioner on the Brooklyn Park Budget Advisory Committee (BAC). He has lived in Brooklyn Park for 10 years.

Panashe is a general assignments reporter.





(2 votes, average: 5.00 out of 5)


Loading...