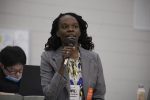 Huldah Momanyi Hiltsley, the Kenyan community leader running for a seat in the Minnesota State Senate, has earned the endorsement of  Stonewall DFL and OutFront Minnesota—two influential LGBTQIA+ advocacy groups.
"Huldah understands the value of unconditional love for LGBTQIA+ youth and the community," said Tamara Grady, the Osseo Area Schools Board Director, who is also the mother of two LGBTQIA+ children.
Hiltsley is running to replace Sen. Chris Eaton in District 38. If elected, she would become the first Black woman and African immigrant to join the upper house of the Minnesota legislature.
Born in Nyamira County, Kenya, Hiltsley came to the United States at the age of nine with her family. After graduating from Robbinsdale Cooper High School in New Hope, Minnesota, in 2004, Hiltsley went on to obtain a bachelor's degree in International Business from Bethel University in St Paul. She is a recipient of The Morrill Hall and Rachel Tilsen Social Justice Award for her commitment to advancing social justice in the community. She currently works as a corporate compliance specialist, and serves as president of Mwanyagetinge Association of Kenyans in Minnesota.
Hiltsley has described herself as an advocate for all people, who believes that good governance requires integrity, transparency, accountability, and equity.
"Together, we will fight for a future where better quality of life is accessible to all residents in the Brooklyns and Osseo," Hiltsley said.
OutFront Minnesota is the leading LGBTQIA+ advocacy organization in the state of Minnesota. According to their website, for the past three decades, OutFront Minnesota has worked to foster an LGBTQIA+ inclusive Minnesota via community organizing, public policy and law, anti-violence efforts, education and training, and a Youth and Schools Gender Sexuality Alliance (GSA) Network. OutFront envisions a state where people of the LGBTQIA+ community can live out their identities and have access to equal opportunities, free of violence, harassment, and discrimination.
First established in August of 1980 as the LGBTF Caucus (LGBT and Friends Caucus), Stonewall DFL is the official LGBTQIA+ Caucus of the Minnesota Democratic-Farmer Labor Party. The organization seeks to create an inclusive political atmosphere by electing members of the LGBTQIA+ community to Minnesota public office, as well as candidates who show commitment to advancing the rights of LGBTQIA+ people.
The two organizations have made a transformative impact on the Minnesota State legislature and policy throughout the years. In 1993, OutFront Minnesota backed the Minnesota Human Rights Act, the nation's first ever civil rights law to protect transgender individuals from discrimination.
Stonewall DFL endorsements require a 60% majority of approval by the Board of Directors. Stonewall DFL provides endorsed candidates with volunteer and financial support.
Jennifer Haack, a community member and mother of two LGBTQIA+ children, said that she believes Hiltsley will continue to push for inclusivity for all in the district.
"Huldah will never abandon a single person in her community," Haack said.
Panashe is a general assignments reporter.





(1 votes, average: 5.00 out of 5)


Loading...