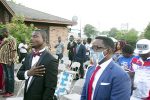 In elections concluded last week for the Organization of Liberians in Minnesota board of directors, members elected two new directors and reelected three to serve in the Liberian community's premier organization in the state.
The race for board seats attracted eight candidates for the five available slots. The board of directors consists of nine members elected by members, each serving a three-year term.
Ms. Bernice Yeiah, chair of the board of commissioners that conducted the election, announced Ms. Edwina T. Willie, Mr. Erasmus T. Williams and Mr. Sizi G. Goyah as the three that were reelected.
Mr. Jackson K. George and Ms. Cora N. C. Sneh are the new board members.
Board members that were not up for election were Messrs. Arthur Biah, Ishmael Komara, Alec Deah and Mohammed Dukuly.
Two board members who did not seek reelection were outgoing chair of the board Abraham Brima Bah, who ran unsuccessfully for a Brooklyn Park City Council seat last year, and Princess Yanforh Wilson.
The organization last year unveiled an expanded community center in the heart of Brooklyn Park, home to many Liberians.
The board election results will be certified at 5pm on Saturday, Feb. 18 at the organization's offices, according to Ms. Yeiah.

Born and raised in Kenya's coastal city of Mombasa, Tom is the Founder, Editor-in-Chief and Publisher of Mshale which has been reporting on the news and culture of African immigrants in the United States since 1995. He has a BA in Business from Metro State University and a Public Leadership Credential from Harvard's Kennedy School of Government. He was the original host of Talking Drum, the signature current affairs show on the African Broadcasting Network (ABN-America), which was available nationwide in the United States via the Dish Network satellite service. On the show, he interviewed Nobel laureates such as 2004 Nobel Peace prize winner, Professor Wangari Maathai, the first woman from Africa to win the peace prize and heads of states. Tom has served and chaired various boards including Global Minnesota (formerly Minnesota International Center), the sixth largest World Affairs Council in the United States. He has previously served as the first Black President of the Board of Directors at Books for Africa. He also serves on the boards of New Vision Foundation and the Minnesota Multicultural Media Consortium. He has previously served two terms on the board of the United Nations Association. An avid runner, he retired from running full marathons after turning 50 and now only focuses on training for half marathons.





(No Ratings Yet)


Loading...