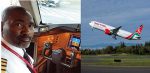 Kenya Airways, which began daily direct flights between Nairobi and New York's JFK airport last October, but shortly dropped it to five days a week, is set to resume daily flights in June to take advantage of the busy summer travel season on the American side. The airline's CEO, Sebastian Mikosz had indicated a return to daily flights in the summer when he announced the reduction to five days during the winter.
In a news release, Kenya Airways said "The New York route continues to be a strategic route for KQ and as an airline, we are firmly committed to it as we gear up for summer 2019 season, which is a high-flying season."
The statement went on to say that beginning in June "Kenya Airways will increase its frequency to New York from five days a week to seven days a week. This is expected to open more opportunities for travelers to take advantage of this route during this high season."
In an interview with Global Atlanta, Kenyan Ambassador to the U.S. Robinson Njeru Githae, said Kenya is now in the process of working to establish air links with Washington and Atlanta after the successful Nairobi-New York route. Githae was in Atlanta for the Atlanta Council on International Relations luncheon.
The ambassador's comments come after Kenya Airways announced last week a codeshare agreement with Delta Airlines to enable travelers to enjoy greater connectivity and efficiency in eleven US cities and four Canadian cities. The destinations available from New York are Chicago O Hare, Denver, Orlando, Miami, Raleigh Durham, Phoenix, and Charlotte, according to Kenya Airways. Eight cities in the US and Canada will also be added subject to the approval of the respective governments and regulatory authorities. Those cities are: Houston, Philadelphia, Columbus, Kansas City, Toronto, Montreal, Ottawa and Edmonton.
The Nairobi-New York direct flight has been well received by the Eastern Africa diaspora in the US but the timing and lack of connecting flights to other parts of the United States has been a source of frustration for many, the codeshare agreement with Delta might address those concerns.

Born and raised in Kenya's coastal city of Mombasa, Tom is the Founder, Editor-in-Chief and Publisher of Mshale which has been reporting on the news and culture of African immigrants in the United States since 1995. He has a BA in Business from Metro State University and a Public Leadership Credential from Harvard's Kennedy School of Government. He was the original host of Talking Drum, the signature current affairs show on the African Broadcasting Network (ABN-America), which was available nationwide in the United States via the Dish Network satellite service. On the show, he interviewed Nobel laureates such as 2004 Nobel Peace prize winner, Professor Wangari Maathai, the first woman from Africa to win the peace prize and heads of states. Tom has served and chaired various boards including Global Minnesota (formerly Minnesota International Center), the sixth largest World Affairs Council in the United States. He has previously served as the first Black President of the Board of Directors at Books for Africa. He also serves on the boards of New Vision Foundation and the Minnesota Multicultural Media Consortium. He has previously served two terms on the board of the United Nations Association. An avid runner, he retired from running full marathons after turning 50 and now only focuses on training for half marathons.





(No Ratings Yet)


Loading...