DED

-

search results

If you're not happy with the results, please do another search
Liberia, Gambia, Guinea and Kenya are the four teams qualified for this year's Minnesota African Cup soccer semi-finals which will be held today at the Zane Sports complex in Brooklyn Park.

The 4th edition of the Minnesota Africa Soccer Cup tournament kicked off last weekend in Brooklyn Park with a dizzying eight matches in two days involving eight teams. The debate over abolishing birthright citizenship is one more distraction from fixing our broken immigration system. Instead of focusing on comprehensive reform, Republican leaders are proposing constitutional amendments to deny citizenship to "anchor babies" – a derogatory term used to describe children born in the U.S. to undocumented immigrants.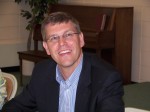 When U.S. Representative Erik Paulsen walked through the doors of Brooklyn United Methodist Church in Brooklyn Center recently, little did he know he was walking into what one meeting participant later called a "booby-trap.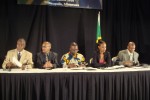 MINNEAPOLIS - Tanzania is in need of more skilled IT personnel and investors to fully exploit the recent landing of the submarine cable in the country, the second annual Diaspora Council for Tanzanians in America convention (DICOTA) in Minneapolis was told during the second day of deliberations on how to harness the resources of the Diaspora for the development of the country. When preparing to file your federal tax return, don't forget your contributions to charitable organizations. Your donations could add up to a sizeable tax deduction if you itemize on IRS Form 1040, Schedule A. It all started when the oil producing nations decided to hike oil prices in the late 1970's. Just like that, these mostly Middle Eastern countries had vast sums of money. And they needed a secure place to keep it, so they put it in Western Banks. Now, suddenly, banks had more money than they knew what to do with it. So, they loaned it out. They loaned it out to developing nations at absurdly low interest rates.
The IRS says you can deduct expenses for taking a business trip or business convention. And there's no reason the trip shouldn't coincide with your vacation.


If you're a small business owner here's one more reason to have a professional handle your business return. The American Jobs Creation Act of 2004 added the domestic production activities deduction, a tax benefit for certain domestic production activities. This deduction provides a tax savings against income attributable to domestic production activities.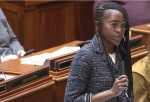 Just two months after elections, Minnesotans are feeling the effects of a Democratic-controlled Minnesota legislature, with the passing of the long-awaited CROWN Act. The...

President Biden on Monday announced the nominations of Monde Muyangwa and Carol Moseley Braun to the board of United States African Development Foundation (USADF),...